Another day of #Syond2015! Quick! Let's go to Italy before it's over!
Darn. Well, there goes dinner.
Maybe the Germans will step up and help us out?

Eh, I dunno. That whole scene, you know? The #Synod2015 scene? Way too many triggers for me. All day, every hour of these crazy long days.
Like when you pose a simple, specific question about process and transparency, and they're all..Yup…
And then they're all…conspiracy theories! Snort! Ridiculous!  And no I'm not going to address specific points because transparency and you should probably just stop panicking and/or hating the Pope. And especially stop asking specific questions.Especially that part.
And then when they try to make it all better and tell you that, hey, seems like only 25% of the bishops were for the New Stuff today?
And you're like…GREAT!…wait, what?
And then for the next hour all of a sudden everyone's yelling about MAGISTERIAL AUTHORITY and EX CATHEDRA and SYNODAL STRUCTURES and PETRINE EPISKOPOS EKKLESIA and CILIA MEANS EYELASHES and you're thinking, wait, that's theology (except the eyelashes part)  and I thought theology was just empty talk by doctors of the law or something but maybe not, and so you're all…
.
Told you.
Oh, but then they starting talking about the HOLY SPIRIT again and it's even worse than yesterday because all you did was say something like, "I'm a little concerned that…"  and before you can even finish they're all
HOLY SPIRIT GOT THIS!
DON'T YOU TRUST THE HOLY SPIRIT?
FORGET ABOUT THE HOLY SPIRIT, DIDN'T YA?
oooooh…
And then you're thinking, wait, do they keep saying that because they think it's complex, real and important or is it really because they want to stop conversation? Which one is it? Huh.
Because nothing weird has ever, ever happened in the history of the Catholic Church. There were never three different guys claiming to be pope, the Reformation never happened and all those Arian bishops? Completely made up.  That's Dan Brown talk, there, sister!
Holy Spirit's Got This!
Okay!
Bright side! A Listening Accompanying Church!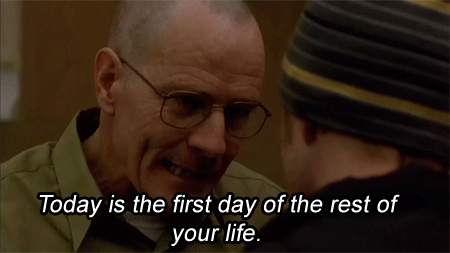 Bright side! A Synodal Church! Because episcopal conferences are awesome!
Bright Side! Decentralized Church Because The Central Authority Sez So!
Bright Side! Anybody can say Anything without attempting to make Any Connection to Any Past Teaching, Practice or Tradition! It will save time and everyone can be super creative!
Oh, heck. You knew this was coming.
Stahp, Skyler.
Holy Spirit's Got This!