Folks, this is tough stuff. Not pleasant. But you know what? That's how harm and destruction infiltrates our lives – it's just too hard and disturbing and gross to talk about, so we don't, or we allow narratives woven from obfuscating language to set the tone and direct the conversation.
So let's not do that this time.
There's not a lot of news about this issue out there this very second (although I was prompted to pull this together by this Twitter thread about possible medical industry influence on Kristi Noem regarding this issue) , but I'm sure there will be an uptick this winter, as soon as state legislatures are back in session – so let's get prepared.
Which means we're going to talk about children and gender,
The push is on. The push to allow, or even encourage children, from toddlers on up, to determine their own "gender" and for parents and others to facilitate any changes or transitions to that end, socially or medically.
Let's focus on the medical aspect, for that is what has and will be coming up in terms of legislation and public policy: legislation to prohibit this kind of intervention, and the subsequent cries of injustice.
Step by step, just so you can unpack this for yourself when it's presented to you.
First of all, it's essential to understand the assumptions. And the fundamental assumption here is that any change is not, in fact, a change in favor of something new. It's an affirmation or confirmation of what always was.
What's happened in recent years is that trans activists have promoted the idea that gender dysphoria and the like is a birth defect. A massive, total, body-wide birth defect. Penis, testicles, hormones, chromosones – the whole thing. Just…wrong.
Anyway. So, just as a birth defect of, say, club foot, would be corrected with surgery without a bit of ethical angst by parents and clinicians, so should the "birth defect" of feeling like you're a girl when you have a penis.
The conclusion, then, is that any medical intervention to attempt to "change" sex is really a correction, and an affirmation of the patient's true self, true identity.
Now – if you have been following this at all, you know that this, as radical as it sounds, comes straight up against another stream in the movement, which is that your physical attributes don't matter – if an intact dude wants to call himself a woman – well – get the hell out of his way and let him in your restroom, bigot.
So yeah, none of it makes sense. But we forge on.
All that is just to explain the groundwork here – you must understand this set of assumptions in order to understand the urgency and passion behind the move to medically transition children.
Now. Here's the meat. Oh, sorry. The nut. No, that's not good either. Okay, the core of the post. What are we talking about when we're talking about these "gender correcting" procedures. Please note that access to these procedures is scattershot. Puberty blockers are hard to find prescribed in the US, surgeries on minors less so, but once someone turns 18, all bets are off – except for mastectomies.
This is just a quick survey. You can get a lot more horrible detail at websites like Transgender Trend. and Fourth Wave Now.
You might also look at the case of Keira Bell, whose victorious suit – against a UK gender-treatment clinic that had prescribed her puberty blockers at the age of 16 – late last year has really shifted the debate and raised questions in way that are hard to suppress. She's a brave young woman. Here's here story.
(9/17 update: Court of Appeal unfortunately overturned the ruling.)
So the first thing that might be prescribed are puberty blockers. First developed for children who suffer from premature puberty, someone got the bright idea somewhere along the line to give them to children who suffer from bodily dysphoria or confusion.
So that's the first thing. Puberty blockers that inhibit the development of secondary sex characteristics like breast and penis growth.
But then what?! You've blocked the development of those secondary characteristics (and who knows what else). But yet….having a micropenis doesn't make you a girl. Having a flat chest doesn't make you a boy! What shall we do?
Let's prescribe cross-sex hormones.
So. Let's give testosterone to girls and progesterone and estrogen to boys. What will this do? It will make the girls' voices deepen, encourage their bodies to grow hair in male patterns. And the boys? It will soften their skin and adjust the way fat is distributed on their bodies.
And maybe – if things are clipping along as we want them to – we'll proceed with some surgery. Here. We. Go.
Girls?
As we mentioned – mastectomies. That's the first thing. Yeet the Teets!
(Oh, and remember that if you weren't lucky enough to get hormone blockers and those breasts popped out anyway, you can always get a corset binders. Crushed ribs? Collapsed lung? Small price to pay, I'd say.)
There are, indeed, "doctors" in the Western hemisphere who are making a very healthy living from amputating young women's healthy breasts. And they're not secretive about it either!
Here's Gender Surgeon – out of the FLA – on TikTok.
The Instagram for the Mclean Clinic up in Canada is now private – but it wasn't when I first discovered it some time back. Dee-lightful.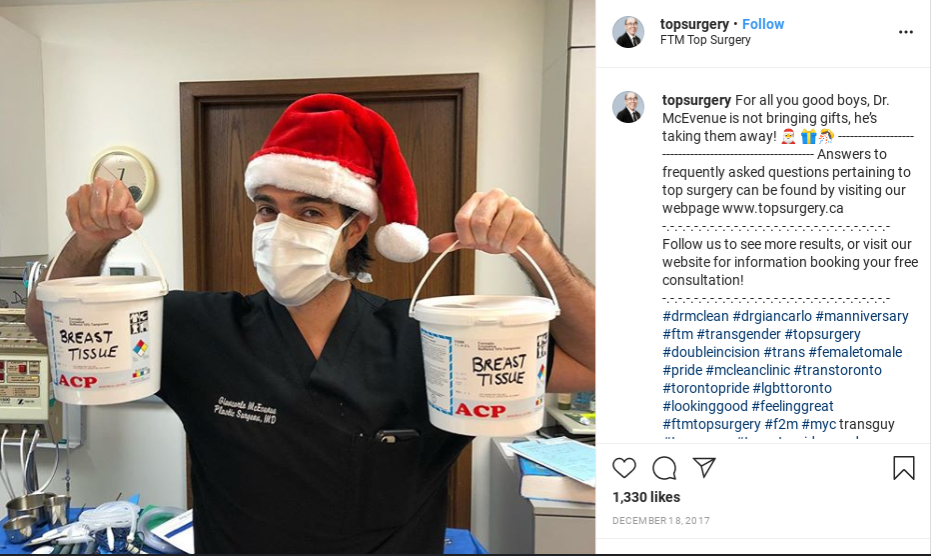 That's the euphemistically described "top surgery."
Well…you are wondering…what about the "bottom?"
Hopefully none of these procedures are performed on minors – but – I bring them up because these other procedures do indeed impact what's possible later on.
If a female desires "bottom surgery" – that involves some sort of enlargement of the clitoris and/or harvesting of skin from the thigh or the arm to construct a (non-functional, of course) pseudo-penis. That harvesting has to go more than skin-deep, of course. It has to take up not only skin, but blood vessels and nerves or else it would be like if you massively skinned your knee and then tried to pin what came off to your ear or something. It would just…die. Rot.
Which it often does anyway.
For the boys who want to be girls? Well, that's more doable, isn't it? Cut off that penis and those testicles (called a castration and an orchiectomy) and then..well…dig a hole. You know. Like a vagina? Sort of?
How does that work? Well, since is the unregulated Wild West of "surgery" we're talking about, whatever. Usually, what is involved is penile inversion – turning it inside out so the interior forms a cavity. But if that doesn't work, hey, let's take it from the colon. Really.
Which – I'm going to tell you, just might be the case if – and let's circle back to the beginning of this post – if the boy has been put on puberty blockers. Because guess what happens when you're put on puberty blockers? Your little boy penis stays at little boy size. It doesn't grow. It might even shrink. There's not enough skin to line your cavity-people-are-telling-you-is-a- vagina.
Oh. Dear.
Which is exactly what happened to Trans Poster Child Jazz Jennings.
(Wondering about my pronoun use? This is why.)
Jennings' use of puberty blockers meant doctors had to be innovative. "Being on the blockers is something that I don't regret at all," she said. "But the only, you know, downside to it was that I didn't have enough growth down below. "So there wasn't enough tissue to work with when it came to the surgery," she continued. "And it was very challenging to find a doctor, a surgeon who was willing to perform the operation on me just 'cause I'm such a difficult case.""They're using the tissue I have, the peritoneum, and also, they may take a skin graft as well," she explained. "I say it's going to be like a patchwork vagina, Franken-vagina. So yeah, as long as it's functional, that's all that matters."Following her surgery, which reportedly took three surgeons nearly five hours, Jennings' recovery proved to be a bit challenging.
Now – we're not finished.
For of course, your fake vagina has been cut out of your body, which makes it, what? A wound. That's right. And what do our bodies do in response to a wound? Right again – try to heal it. Close it.
You've had pierced ears or other body parts. You know how it is.
But this is a little more invasive than a piercing. So for the rest of one's life, that male who's paid doctors to cut out a wound between his legs must dilate that wound – insert something like a vibrator into that cavity. For 30 minutes twice a day for the first year, and once a day for the rest of your…life.
Which leads me back to Jazz.
As you know, Jazz and family have been the subject of a reality TV series. Here's a clip – sorry I can only find it on Twitter at this moment – of Jazz's mother commiserating with moms of other young people, complaining how uncooperative they are about the dilating thing. Kids today!
You can watch it here (30 seconds) – but the short version is that Mother of the Year Jeannette complains:
I have woken Jazz out of a dead sleep and taken the dilator and put the lubrication on it and said: 'Here! You take this, and you put it in your vagina. If not, I will.' I will be so mad if […] that thing seals up
Yeah, this is only the beginning of the horror show that is sex reassignment surgery. The life long consequences are partly horrible and partly unknown. Just to toss out one more example: if a female goes on testosterone to the extent that female-to-male trans people must in order to even gain even a smidgen of male attributes (hair, coarsening skin, lowering voice, body shape) – they will probably have to eventually have a total hysterectomy, since elevated levels of testosterone in the body of a woman who's still producing estrogen and progesterone will likely lead to cancer.
Adults doing all of this is tragic enough.
But.
But.
We're talking about children here.
"Posie Parker" is the public name of Kelli-Jay Kean, a British woman who is on fire about these issues and is routinely banned from various platforms for that sin – she's still on Instagram and YouTube however – and here's just one post, from a couple of days ago. I don't know what country this is in – obviously English-speaking. But look at this child. Child.
Finally, let's talk $$$$.
Isn't that where we always end up?
Because you know it, don't you? These things don't just….happen.
If you want to see a lot of dots connected, head to Jennifer Bilek's 11th Hour Blog.
Short version:
If you set any person on a road of medicalized sex surgeries and interventions…you've got them for a lifetime. They can't ever stop taking the hormones. The body parts are going to need tweaking and tightening, cleaning and re-stitching. The Adam's apple and facial bones might call for shaving (MTF) or building up (FTM). Electrolysis! Laser hair removal! And on and on and on.
It's a gold mine.
And this is where I want to end up. But before I do, let's recap.
Over the next few months, you're going to see tears shed for the sake of "gender affirming medical care" for "trans kids."
What is that?
What I outlined above. Blocking normal puberty with chemicals, then bombarding the bodies of young people with cross-sex hormones, and holding out to them the promise of surgery to cut off their breasts, penis and testicles and attach flaps of skin and create cavities for the sake of their….identity.
What. The. Fuck.
You don't often "hear" me use that language (because you don't live with me), but this calls for it. This is such total, absolute abuse, made all the worse for the gentle and manipulative words used to describe it. It shouldn't be legal and medical practitioners who are a part of this should be driven out of the profession and, hopefully, someday, sued into oblivion, when all of this is understood, some day, as the lobotomy of the early 21st century.
This is a social and culture movement filled with and constructed of lie and illusions, built on and exploiting deep suffering and confusion.
Don't feed the monster.
Because that's exactly what it is.
Monstrous.
From another article, published this week:
We have no doubt that the medicalisation of GNC young people over the last decade is the biggest medical scandal of our time, perhaps of all time. It is robbing thousands of children of their fertility and future sexual function, while a host of other serious side effects are only just now beginning to emerge. (These have been superbly and chillingly documented by Professor Michael Biggs). Most damningly of all, hormones and surgery were found to have no mental health benefits.

For some campaigners, the fight against medicalising GNC children will be won when GIDS halts its treatments and commits, fully and transparently, to evidence-based, peer-reviewed medicine. For others, it won't be over until the people who championed and undertook these barbaric treatments are in the dock. Until very recently, however, it's been the whistleblowers who have been subjected to disciplinary action.