—1 —
Sorry – I don't know where my head is. Well, that's not true at all. I do know where it is – with all sorts of IRL matters: a new grandchild/nephew (!), visitors on Monday, the usual round of music lessons and having to go find free organs on which to practice where ever we can, and yes…getting ready for a trip. 
Earlier this week, I reached the point at which this happened:
Me:  Cool! A week from today, we'll be in Honduras!
Also Me: Wait, what? A week from today, we'll be in Honduras??
Because there are dimensions to this journey that must be planned, yes, I've done some planning. Accommodations for the first chunk were reserved a couple of months ago. I've contacted a guide for the main ruins site. Oh, of course, Spanish course reserved and paid for.
Airfare to and from reserved and paid for. Well, of course.
Other than that?
No plans.
We're staying for the first week in a small town, with enough to do in the afternoons after Spanish study to keep us occupied, I'm confident. We'll walk some places, take tuk-tuks others and engage a driver of a car if we want to go further afield. There's no point in trying to plan a day-by-day itinerary. This isn't like going up the Empire State Building or the Statue of Liberty where you must get timed tickets or else you'll miss out. The ruins, macaws, hot springs and ziplines won't be going anywhere. We're staying in a hotel with an English-speaking proprietor praised in all reviews for being super helpful. I'm just figuring on getting his input and assistance when we arrive.
After all, the main things are the language school – which is set and ready to go – and the ruins – which are in walking distance of the town and we can visit when we want, along with the museum. Everything else can be worked out.
And as I often say when going on a trip like this: It really doesn't matter what I "get to" …it's all new to me. 
The question remains, though – the few days between the end of the language school and our departure. And there are a few days. Our hotel reservation only goes to that last day of the school, and there weren't any rooms available for the next day when I made the original reservation, although I see there are now. There's another town and natural site that my son would like to go to  – and that's sort of the vague plan. How we get there (bus? driver?) is a question – but again, I'll have a week to work it out, as well as the final approach to the airport in San Pedro Sula for the journey back.
The timing of the trip? Really just because of a homeschool co-op Biology class my son took that wrapped up today (second semester begins mid-January). He'll miss two weekends of work at the church, but when he was invited to take this position, we told them of the long-"planned" trip dates, and they were fine with it. And since Thanksgiving is so late this year, there were no worries about bumping into College Son's return for that break.
(And yes – we'll be heading to see the new grandchild/nephew right after Thanksgiving, and then again after the new year!)
So we'll see. My only hope – besides my son upping his Spanish game – is that this little break from a)music lessons and practice and b)stressing about math – will give me the head space I need to reset, creatively.
But if it doesn't? Eh, that's fine. No great loss – but looking back and seeing that I chose myself over my kids would be a loss, in more ways than one. My most important job now and always is being a parent. I'm no saint and I certainly have countless parenting fails and faults, but if I take on the responsibility of parenting, well, yes, that means they come first and, as I said recently, it's my job do do that job and not be a martyr about it.
Si…sitting in a hammock in Honduras while my son speaks Spanish….such a sacrifice….
If you've driven on I-65 through Alabama, you've seen the advertisements for Ave Maria Grotto at St. Bernard's Abbey and perhaps you've even stopped there. The Grotto and Abbey are in Cullmann, Alabama, a community with a long German history – not surprisingly. This year, a rather startling expression of that German heritage has been erected – the largest Weihnachtspyramide, or Christmas pyramid in the world, put up by German craftsmen.
Here's a local story about it.
Here's a story from a German source that has more photos of the crafting of the piece over in Germany. 
Die Amis stehen auf "Made in Erzgebirge". Deswegen baute die Erzgebirgische Holzkunst Gahlenz GmbH bereits die vierte Großpyramide für die Staaten. Anfang November wird sie im Städtchen Cullman im Bundesstaat Alabama aufgebaut.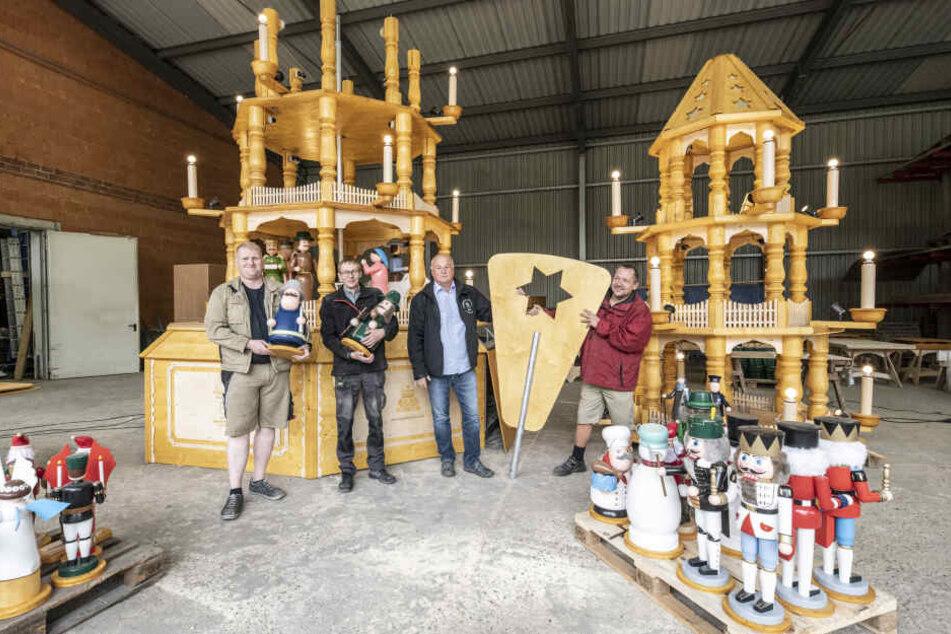 If you read nothing else today, consider this: Reflections on a Terminal Diagnosis – written last year by theologian Beth Haile, who died this week, a young woman in her thirties, leaving behind a husband and four children. Her essay is honest, sad, bracing and hopeful. This is us. We're all facing a terminal diagnosis, whether we admit it or not. We can all use this wisdom:
I am encountering Jesus in a different way. I am encountering the Jesus who died when he was only 33 (my age when I was diagnosed). When I was first diagnosed, as everybody around me prepared for Christmas and I prepared for radiation and chemo, I encountered Jesus in the garden. As I went through the sickness and tiredness of radiation, I encountered Jesus at the pillar. Now I encounter Jesus on His walk to the cross, helped along by countless Simons. The Jesus I am coming to know is not so much a healer or a moral teacher or a miracle worker, but a sufferer. How could he not have a preferential concern for the poor and suffering? He came to suffer, not to show us a way out of it, but to offer us solidarity. And eventually a triumph over suffering that never lets the suffering be forgotten. I am encountering the Jesus who is still showing us his wounds after the resurrection. And I am encountering Jesus in the countless people who suffer in solidarity with me.

I don't think Jesus will heal me. I hope He does. I hope a cure for gliomas comes out tomorrow. And if it doesn't, I hope to get many good years with my husband, kids, family, and friends. But even if my hopes are realized, I will still die. And so I pray less for a miracle (my friends are praying for that) than I do courage, good humor, and the resurrection of my body. I pray that I am able to suffer well. I pray that I am able to die well. I pray for those I love to see the good God is doing after I die. I pray for myself, that I also realize the good God is doing now. I pray for good lives for my kids—not so much pleasure but deepness of being that comes from education and faith. I pray that they are also able to suffer well. I pray for my husband, because he will have to work so hard, but I also want him to have a good life. I have. My life is too short to end, but it has been a good—no, a great life. I have met great people. I have a great husband and four great kids. I have seen great places. I have read great books, eaten great meals, and drank great wine. I hope to keep doing these things. But most importantly, I have come to know and to love a great God. And when everything else ends, I am going to keep knowing Him.

I probably won't write much, if at all. I have one hand, two brain tumors, and four kids. But I want to conclude that I love my faith, I love being Catholic. It is a horrible time for the church (why now? I am heartbroken) but I know the church is much bigger than the hierarchy (though what they do matters so much). I am proud to be a member of Jesus' church. I take great consolation in the fact that his body appears on countless altars around the world, everyday. And I have been privileged to have seen, to have been served by his body, by the finest people of God. In many ways the church is very sick, but I cannot forget that in other ways it is alive and healthy. And I am happy that I get to keep being a part of this church when I die. People are saying that they are praying for a miracle, but I know the miracle has already happened and pretty soon my eternity is going to be Easter morning.
For more Quick Takes, visit This Ain't the Lyceum!