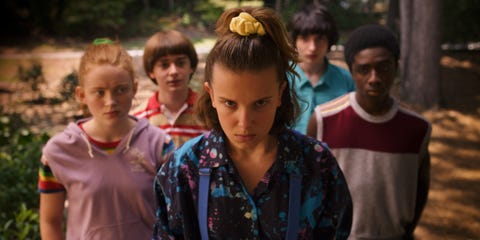 Quick notes on Stranger Things.
Short version: I'm not a fan.
I've watched all three seasons, although I confess that if you asked me what happened during season 2, I could tell you nothing except: I think it ended with a dance? Right? 
I wasn't interested in it when it first aired because, well, hype. I'm cautious about hype. Also kids. I tend to have a reflexive disinterest in works of art with kids as protagonists – except for Huckleberry Finn. When I idly open a book and read the description which begins, Told through the eyes of 14-year old Maisie…I immediately lose interest. I don't care how wise beyond her years she is. I was fourteen once, and I was pretty stupid, so….
But then my kids decided they'd watch it, so I watched it with them, then the second season rolled around and I guess I watched it (there was a dance, right?) and over the past few days, we knocked of season 3 just because they were interested, and I tag along for the same reason I'll sit and watch football games (for a while) – I just want to be connected to the gestalt around here at some level. That's important. Although I draw the line at video games. You can do that on your own. I'll leave that gestalt to you.
During the first season, there were attempts here and there to talk about the show in Catholic Terms – which of course, you're going to have any time you have a work that includes the supernatural and some manifestation of the supernatural through the material world (Christmas lights, music…)…people are all Sacramental! Catholic Imagination!
I couldn't see it at the time, and still don't. Here, in bullet points, is what I do and don't like about Stranger Things 3: 
Some of the actors are entertaining to watch. Gatan Matarazzo, who plays Dustin, is probably the best of the entire cast – and I'm including the adults in that. Millie Bobby Brown – Eleven – is clearly talented, but is asked to do little but look puzzled, then reach intensely, be more intense, let her nose bleed and then collapse. Charlie Heaton, who plays Winona Ryder's older son, is also good. Everyone else is either dull or, particularly this season, cartoonish – the wonderful Cara Buono and pretty good David Harbour, I'm looking at you.
And actually…that's it. That's what I sort of halfway enjoyed. I was ready to just sit on my porch with my magazines after episode 2, but eventually shrugged and sat through it all. My problems:
Guys, I have a problem with the language. Not in and of itself. I'm not bothered by words in general. Ask anyone. No, my problem is with the coarse dialogue being spoken by kids – and it's gotten worse with each season. Some of it's just not realistic, as when kids use that kind of language directed at adults. But otherwise, it's lazy and off-putting, at least for me.
I was really irritated by some details of this season. The whole misogynist-newspaper-staff making Nancy's life hell was ridiculous. A small-town Indiana newspaper in 1985  being staffed by a crew of hard-bitten cynical men who could have walked off the set of The Front Page? No – a small-town Indiana newspaper in the 1980's would probably be staffed half by women who'd been writing, not only about the garden club and DAR meetings, but about city council meetings as well. That was just stupid.
I'm not good at writing about this kind of thing – unlike son #2, who writes so well about film. But let's try.
My fundamental issue with Stranger Things all along has been what I see as a failure to really make the "Upside Down" matter.  It bursts through from time to time, people mess with it, but…so what? It doesn't function as a metaphor for anything on this side. It doesn't reflect anything substantive about reality, except that perhaps danger exists and lurks – but even then, the problem, I think, is that the "regular" world of Stranger Things is, in general, so superficially drawn that there's no thematic relationship between what characters experience in ordinary life – even those who experience loss – and the darkness lurking underneath. This weirdness randomly pops up, challenges them, they fight back, most of them win, it retreats, and they open up another box of Lucky Charms and move on.
There are deeper themes that are played with – this season is, in a way, about the tensions of growing up and leaving childhood behind. As the almost-final-scene of this season pounds home in a not-very-subtle way, it's about accepting wounds, living with them, finding good and not running from reality. But – again, I can't quite articulate why or what's missing – but it just seems to me there's a missing piece. A big one. Perhaps the best way to put it is that if you observe these characters without reference to their supernatural battles, you wouldn't know they'd had any in the first place. I can definitely see doing a show or a movie in which characters are challenged in extreme, strange, supernatural ways in the context of deeply ordinary lives – that's a fundamental trope of certain horror/sci-fi pieces, after all – but what makes something like that interesting is seeing how it indeed impacts that ordinary life, and secondly, how the extreme challenge expresses, metaphorically, more ordinary fears and challenges. (Think A Quiet Place for example.)
Maybe I'm dense. Probably! But the whole thing just seems disjointed to me, and really just can't care what happens to any of these people – except Dustin, hopefully spinning sweet tunes with his Mormon soulmate out there in Utah.