—1 —
One outing this week: to Noccacula Falls, which is in Gadsden, about an hour away. It's off I-59, which is the interstate you'd take if you were going from here to Chattanooga or Knoxville.
We'd been several years ago – so long, Kid #5 had no recollection of it. (Kid #4 was working). That time, however, I think we just did a brief stop on our way somewhere else and just looked at the falls from above – we didn't venture down on the Gorge trail, which allows you to go behind the falls.
We did this time.
A very nice day. The weather's been really pleasant this week – lows in the actual low 60's, which is quite unusual and surely won't last.
Movies this week:
Master and Commander – none of us had ever seen it before. A great movie, quite rousing, must have been spectacular on the big screen. It's a real shame no more were ever made.
But…speaking of Russell Crowe…have you seen the trailer for his new movie? It looks ridiculously insane. 
And he looks…different.
Then Hobson's Choice. What a wonderful movie. I'd seen it long ago, when – perhaps a few of you remember – some PBS stations would run Janus Films on Saturday nights. Anyway, although some regular television stations ran older films late night or on weekends and the networks still broadcast made-for-theater movies (NBC Monday Night at the Movies!), what they showed was very mainstream, of course. By the time I was in high school, cable had come into our world – WTBS and WGN mostly, in those early days, and they showed movies. But never any art house or foreign films.
So….those Saturday night Janus Films on the Knoxville PBS stations …that was where I first saw Cocteau's Beauty and the Beast, The Four Hundred Blows, M,  La Strada, Metropolis and so many others.
Here's a contemporary article about PBS purchasing the rights to broadcast these films. 
And yes, Janus Films still exists as a rightsholder and distributor.
And oh yes, Hobson's Choice. The only place it was streaming was through HBOMax, so I grabbed a 7-day free trial (remind me to cancel it on Tuesday, will you?) and got it rolling.
Based on an early 20th century play, starring Charles Laughton, Brenda de Banzie and John Mills and of course directed by David Lean, it's a marvelous, easy comedy with a strong female lead and a charming love story based, initially, not on passion or even initially much attraction – but built on mutual respect (and, okay,  a little fear) and partnership. John Mills bracing himself for his wedding night – and the transformation that comes the morning after – is very funny and illustrative of how to express true things about sex and marriage in subtle, artful – and comedic – ways.
Next movies? Not sure. We only have a couple of days before people head off for a little visit to family, so we must choose wisely. I'm leaning towards The Man in the White Suit and Wages of Fear. 
Quite a change, isn't it, from forty years ago, when, besides those Janus Films, the best we could get was a commercial-laden, chopped up showing of His Girl Friday on a Saturday afternoon.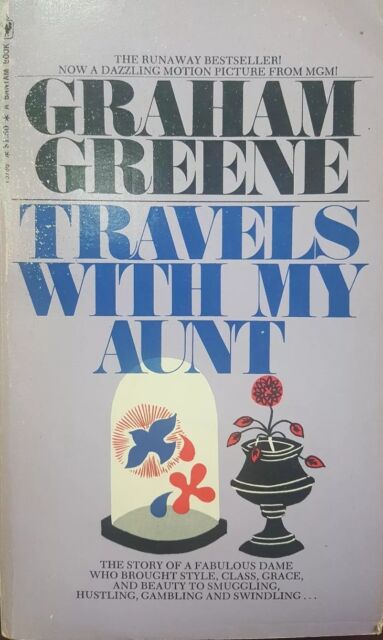 The cover of the edition that's in my memory from my parents' shelves.
Over this past week, I read Travels with My Aunt by Graham Greene for the first time. There won't be another time. It's definitely my least favorite Greene, although, being a Greene, it's not an unpleasant read. I suppose I prefer my Greene with a bit more politics and a little less wacky female character. A couple of passages worth remembering:
I met my Aunt August for the first time in more than half a century at my mother's funeral. My mother was approaching eighty-six when she died, and my aunt was some eleven or twelve years younger. I had retired from the bank two years before with an adequate pension and a silver handshake. There had been a take-over by the Westminster and my branch was considered redundant. Everyone thought me lucky, but I found it difficult to occupy my time. I have never married, I have always lived quietly, and, apart from my interest in dahlias, I have no hobby. For those reasons I found myself agreeably excited by my mother's funeral.
"Are you really a Roman Catholic?' I asked my aunt with interest.

She replied promptly and seriously, 'Yes, my dear, only I just don't believe in all the things they believe in.' "
"But surely you must have despised the man after all he had done to you?"
We were crossing the long aqueduct through the lagoons which leads to Venice-Mestre, but there were no signs of the beautiful city, only tall chimneys with pale gas flames hardly visible in the late-afternoon sunlight. I was not expecting my aunt's outburst.
She turned on me with real fury as though I were a child who had carelessly broken some vase she had cherished over the years for its beauty and the memories it contained. "I despise no one," she said, "no one. Regret your own actions, if you like that kind of wallowing self-pity, but never, never despise. Never presume yours is a better morality."
In the act of creation there is always, it seems, an awful selfishness. So Dickens's wife and mistress had to suffer so that dickens could make his novels and his fortune. At least a bank manager's money is not so tainted by egotism. Mine was not a destructive profession. A bank manager doesn't leave a trail of the martyred behind him.
And then, what sums up the entire book, beginning with a childhood memory:
I was afraid of burglars and Indian thugs and snakes and fires and Jack the Ripper, when I should have been afraid of thirty years in a bank and a take-over bid and a premature retirement and the Deuil du Roy Albert.
(The last is a reference to a dahlia that had not flourished under his care, and had therefore been a source of disappointment to him.)
Today is the solemnity of  the Sacred Heart of Jesus
In a time and culture in which hardly any of us understand what love actually is, in which dehumanizing hate and contempt dominate public discourse, a daily prayer (you can find some here) focused simply on love might just have surprising power.
In a church culture which often reflects contemporary values that emphasize achievement and self-actualization and fulfillment by doing the Next Big Amazing Thing in Your Very Big Amazing Life, a daily prayer centered on opening ourselves to sharing the love pouring forth from the heart of Jesus in just ordinary ways might provide a welcome refocus as we get our bearings for summer.
Here are the pages on the Sacred Heart from The Loyola Kids Book of Catholic Signs and Symbols. 
Click on each image for a larger version.
More about the book – and the others in the series – here. 
Tomorrow (June 20) is the memorial of the Immaculate Heart of the Blessed Virgin:
From The Loyola Kids Book of Catholic Signs and Symbols. 
For more Quick Takes, visit This Ain't the Lyceum!