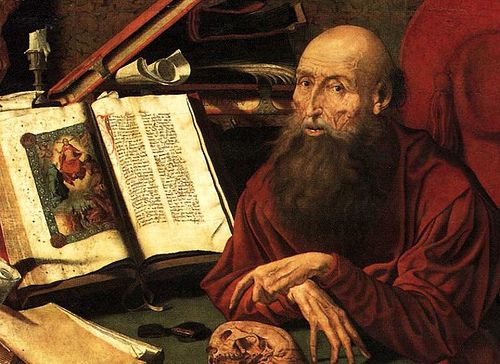 Today is the feast day of St. Lawrence of Brindisi, a Capuchin who lived in the Counter-Reformation period.
His story offers the open-minded an opportunity to learn more about the course and form of the Church throughout the ages and the varied forms that sanctity takes….
The best brief-ish biography I found of this saint is, not surprisingly on a Capuchin site. Here.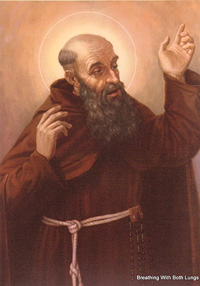 Language scholar, humanist, philosopher, theologian, biblicist, preacher, missionary, professor, international administrator, confidant of Popes, Emperors, Kings and Princes, diplomatic envoy, army chaplain, military strategist and morale builder, polemicist, prolific writer – these are but some of the key skills and professional assets you might find on the CV of Julius Caesar Russo.Few modern multinational corporations would not vie to have this practical academic, influential publicist and versatile polyglot as part of their dream team.
But career chosen by this gifted sixteenth century man involved becoming part of a different kind of dream team, an alternative dream team, namely the 'troubadours of the King of Heaven' founded by Saint Francis of Assisi and called 'the Order of Capuchin Friars Minor'. As part of this band of Brothers and as their servant-leader, he travelled barefoot all over Europe and founded churches and religious houses throughout the Holy Roman Empire. He evangelized and encouraged people. When necessary, corrected them while always inspiring them. He washed dishes and said Mass humbly. He prayed almost incessantly and he willingly lent a listening ear to his Brothers and to all who turned to him for help. In the end, he would die among strangers, while undertaking a mission of mercy far from his native land. This epitome of a Renaissance man, this multi-talented genius and learned Capuchin Brother was none other than Saint Lawrence of Brindisi, one-time Vicar General of the Order of Capuchin Friars Minor.
Beatified by Pope Pius VI in 1783, he was canonized by Pope Leo XIII on the Feast of the Immaculate Conception 1881, and proclaimed a Doctor of the Church in 1959 by Blessed Pope John XXIII. At the command of the King of Spain, his body is enshrined in the monastery church of the Discalced Franciscan Sisters at Villafranca del Bierzo in Galicia, Spain.
The basics:
Born in Brindisi, Italy and named "Julius Caesar" by his father!
Both parents died fairly early, he became associated with the Franciscans and then with their branch the Capuchins.
A brilliant student known for his mastery of languages, including Hebrew, a rare feat at that time.
An accomplished preacher, who, in the Franciscan model, traveled widely.
Brother Lawrence prepared his preaching through prolonged prayer and penance, meditating for hours on the Gospel before preaching a homily. The following quotation may help to give us an insight into how Brother Lawrence's studied the scriptures, going beyond the literal meaning to the deeper spiritual meaning. The text also gives us a taste of his style of preaching. "When Christ decided to give sight to a man, blind from birth, he placed mud in the man's eyes – an action that was much more suited to blinding those who see than giving sight to the blind who could not see! So too the Passion and Death of Christ was more likely to destroy the faith of those who believed that He was the Only-begotten Son of God than to commend faith to non-believers. Christ came into this world to do battle with Satan, to turn the world to faith and the true worship of God. He could have accomplished this by using the weapons of His Might and coming as He will come to judge – in glory and majesty just as he manifested himself in his Transfiguration. Who would not then have believed in Christ? But in order that His Victory might be the more glorious, He willed to fight Satan in our weak flesh. It is as if an unarmed man, right hand bound, were to fight with his left hand alone against a powerful army. If he emerged victorious, his victory would be regarded as all the more glorious. So Christ conquered Satan with the Right Hand of His Divinity bound and used against him only the Left Hand of his weak Humanity."
He was called to several offices within the Capuchin order – he didn't seek them, didn't want them, but accepted them.
He was quite active in engaging and trying to bring back Protestants and lapsed Catholics:
Already in 1599, three years prior to his election as General Vicar, Brother Lawrence was sent to Austria and the present-day Czech Republic as a missionary to establish the Order in those lands and help buttress the Catholic faith against the constant onslaught of Protestantism. Taking with him with him twelve other Brothers, some of whom had German roots, he established local Fraternities at Vienna, Prague, and Graz a city of in south-east Austria. When the Brothers arrived in Prague they first lived in a hospital caring for the plague victims and preaching to the locals on Sundays and other Church festivals. Their sermons were effective in touching the hearts of many lukewarm Catholics who returned to the practice of the Faith. But at the same time they also were met with derision, which turned at times to life-threatening violence, from Protestants and hostile lapsed Catholics. The citizens scoffed at their poor dress-sense and the fact they went around in their bare feet. Their long beards too became the subject of mockery. Lutheran soldiers in the Imperial Army would call Brother Lawrence "the Wolf-monk'. On another occasion, a Protestant mob tried to push Brother Lawrence off a bridge in Prague and throw him into the river below. But he was rescued at the last minute by the Papal Nuncio's nephew who happened to be passing by in the company of some of his friends.

Varied Evangelizing Approaches Adapted to Meet Local Needs
In the lands ruled by the Habsburg Emperors at the time there were Anti-Catholics, Non-Catholics, wavering Catholics and pious Catholics; some lived in thriving cities, others lived in isolated country farmhouses. Different audiences required different evangelizing methods. So Capuchins would use what they called "Apostolic Missions' to visit the country people in their homes or work places and teach them the basic truths of the faith. In the cities they promoted devotion to the Blessed Sacrament and especially the devotion of 'Forty Hours Adoration' as well as setting up penitent confraternities dedicated to honouring the Passion and Death of Christ. Brother Lawrence relished every opportunity to engage Protestant Pastors in lively debate and used his writings to persuasively convince them and their adherents of their mistaken way of thinking. Seeing that this mission band was very successful, a new band of Capuchin missionaries was invited to help out. Blessed Benedict to Urbino was one of this second group of missionaries.As Provincial Vicar of Venice, Brother Lawrence began establishing a chain of Capuchin friaries connecting Venice, Trent, and the Tyrol. With an influx of native vocations, these houses of presence and mission would later mushroom, becoming in time six independent Provinces of the Capuchin Order.
He engaged with secular leaders at many levels for many purposes.
And then…there is that battle:
In 1601 the large Turkish army invaded the lands of the Holy Roman Emperor and were threatening to overrun the Habsburg-ruled lands before going to Rome to stable their horses in Saint Peter's Basilica. The Pope and Emperor were alarmed and patched together an army to block the Turkish threat. Brother Lawrence's skills as a diplomat were used to cement together a Christian allied force which also included Protestants. At the Emperor's request Capuchins served as army chaplains to the soldiers and Lawrence was among those appointed. However the small and badly equipped Imperial forces were no match for the invading Turkish army which with 80,000 men was more than four times larger than the 18,000 Christian soldiers who tried to block them.

At the The Battle of Székesfehérvár in Hungary the hopelessly outnumbered Christian army's field commanders counselled retreat. but Brother Lawrence would not hear of this. Instead he urged the Imperial Forces on to victory, encouraging the flagging soldiers with his fiery words and personally leading the army into the thick of battle with his cross raised aloft for all to see. "Advance! Advance! Victory is ours!" he shouted over and over again and in the end a revitalized Christian army totally routed the Turks. Even the Lutheran soldiers were impressed by this and Brother Lawrence's morale-boosting efforts were deemed pivotal in snatching a surprising last minute major victory over the invading Turkish forces.
In this noble and excellent two things are especially outstanding: his apostolic zeal, and his mastery of doctrine. He taught with his word, he instructed with his pen, he fought with both. Not deeming it enough to withdraw into himself, and dedicate himself to prayer and study in the refuge of his monastery, and occupy himself only with domestic matters, he leaped forth as if he could not contain the force of his spirit, wounded with the love of Christ and his brothers. Speaking from many pulpits about Christian dogma, about morals, the divine writings, and the virtues of the denizens of heaven, he spurred Catholics on to devotion, and moved those who had been swallowed up by the filth of their sins to wash away their crimes, and undertake the emendation of their lives. … outside the sacred precincts, when preaching to those who those who lacked the true religion, he defended it wisely and fearlessly; in meetings with Jews and heretics, he stood as the standard-bearer of the Roman church, and persuaded many to renounce and foreswear the opinions of false teaching. …

In the three volumes called "A Sketch of Lutheranism" (Lutheranismi hypotyposis), this defender of the Catholic law, mighty in his great learning, seeks to disabuse the people of the errors which the heretical teachers had spread. Therefore, those who treat of the sacred disciples, and especially those who seek to expound and defend the catholic faith, have in him the means to nourish their minds, to instruct themselves for the defense and persuasion of the truth, and to prepare themselves to work for the salvation of others. If they follow this author who eradicate errors, who made clear what was obscure or doubtful, they may know they walk upon a sure path.
With a fine theological sensitivity, Lawrence of Brindisi also pointed out the Holy Spirit's action in the believer's life. He reminds us that the Third Person of the Most Holy Trinity illumines and assists us with his gifts in our commitment to live joyously the Gospel message.

"The Holy Spirit", St Lawrence wrote, "sweetens the yoke of the divine law and lightens its weight, so that we may observe God's commandments with the greatest of ease and even with pleasure".

I would like to complete this brief presentation of the life and doctrine of St Lawrence of Brindisi by underlining that the whole of his activity was inspired by great love for Sacred Scripture, which he knew thoroughly and by heart, and by the conviction that listening to and the reception of the word of God produces an inner transformation that leads us to holiness.

"The word of the Lord", he said, "is a light for the mind and a fire for the will, so that man may know and love God. For the inner man, who lives through the living grace of God's Spirit, it is bread and water, but bread sweeter than honey and water better than wine or milk…. It is a weapon against a heart stubbornly entrenched in vice. It is a sword against the flesh, the world and the devil, to destroy every sin".

St Lawrence of Brindisi teaches us to love Sacred Scripture, to increase in familiarity with it, to cultivate daily relations of friendship with the Lord in prayer, so that our every action, our every activity, may have its beginning and its fulfilment in him. This is the source from which to draw so that our Christian witness may be luminous and able to lead the people of our time to God.
The sketch offered here is just that…a sketch. Go to the Capuchin site I linked above for more, or this one – is also good.
I think the life and proclaimed sanctity of St. Lawrence of Brindisi, even as sketched here, points out the inadequacy of some approaches to the Catholic questions and issues.
It is easy, it seems, to read the Gospels and proclaim: Engaging with power is bad. War is bad. Simplicity is good. Tolerance is good. Embrace. Mercy. Welcome.
But read this saint's story carefully. A man who apparently found it not at contradictory to give himself to Christ, hold up St. Francis of Assisi as the emblematic disciple, devote himself to attempt to convert – not simply dialogue with – non-Christians and non-Catholics, move among the corridors of power, minister to the powerful, and inspire an army to go to battle.
Does that fit with what you've been hearing about what a "true Christian" does and doesn't do?
This is why simplistic, The Gospels – n – Me – n- the Holy Spirit Today – doesn't work. It can't coherently account for the complexity of Catholic history because there's no systematic thinking brought to the table. There is certainly plenty of space to talk about the shape of the Church and the vision of sanctity through the centuries, but without principles and systematic thinking, we really have nowhere to go. Simplistic, idealistic thinking cuts us off from the breadth, depth, complexity and even ambiguity of human history and Christ's church and saints within that history and offers us only the present moment in however those in authority choose to frame the present moment.
Oh…and slightly off topic, as I was reading, a concise expression of how saints deal with church office and authority came to me.
Saints don't seek office; they seek mission.
(And the hard part for most saints happens when the mission comes in the form of an office.)
(If you'd like a quick, interesting read – go to archive.org and check out this short book called The Saints of 1881 written by a British priest, about the saints canonized by Leo XIII that year. Catholic publishing – always looking to build on current events, even then!)