This Sunday's Gospel is the Beatitudes as presented in the Gospel of Luke – in the context of a Sermon on the Plain, rather than a Sermon on the Mount as in Matthew.
Those of you who have studied or taught anything about Scripture, including these passages, know that one of the things Scripture teachers love to do – especially at non-specialist levels – is to have you compare versions. Compare and contrast the Infancy narratives in Matthew and Luke! Compare and Contrast the telling of the Parable of the Sower! The Transfiguration! The Passion Narratives! The Resurrection Appearances!
Make charts! Draw conclusions about each Evangelists' perspective and intended audience! Jew? Gentile! Mixed!
This is fine. Sure. Hey, I've done it. Why do we do it? Besides the fact, of course, that it provides an easy framework for assessment. There's that. Well – it's true that the approach does indeed, offer important insights, helps us establish context, and yes – the differences are hard to miss, even for the casual reader – I'm reading about the Nativity in Matthew – wait, where are the shepherds? – but I've always had a problem with making that kind of distinction-noting a core of Bible study. It plants seeds of skepticism. It puts the Gospel writer at the center of our consciousness rather than Christ.
I'm not arguing for fundamentalist, out-of-context readings. I'm just saying that at least when I was teaching, that sort of focus was the center, even of high school Bible courses, and I don't think, in the end, it helped students approach Scripture as God's Word, powerful and effective in their lives.
And as I listened to the Gospel reading yesterday evening, I was reminded of one of my odd ideas, that I don't think I've ever shared, probably because I'm afraid it's too simplistic.
But here we go. Take it for what it's worth.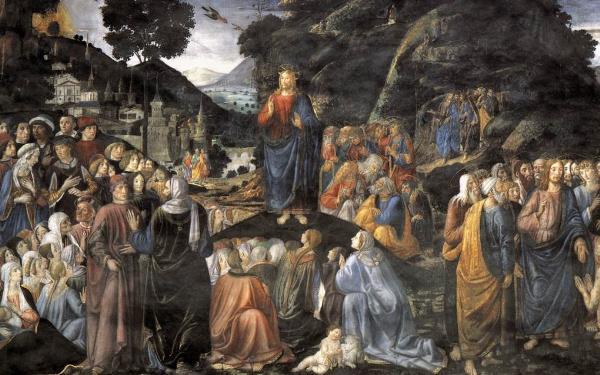 So – we have two different accounts, we say, of the Beatitudes. We read the Beatitudes in both gospels then, with distinction-making and context-examining our priority. How does this reflect Luke's priorities and themes? How is that different from Matthew's presentation in the Sermon on the Mount?
Perhaps you heard that in your homily this weekend.
And then we perhaps take some mental side-roads into the Forest of Inerrancy, and that's a fun place to be, isn't it?
Well, how about this?
Jesus preached for a while, in different places to various audiences. He told parables shared wisdom, had words to say about the Kingdom, about authority, about the Law, about life, about himself.
Do you really think he told a parable only once, to one audience?
If what we now call the Beatitudes were so vital to his preaching – do you think he only shared them one time, in one context?
Or is it possible that has he traveled and preached over those months and years, he shared the same parables and ideas many times? He certainly responded to individuals and their situations in unique ways, but when it comes to those parables and other themes at the center of his preaching, like the Beatitudes – wouldn't it make sense that he shared them often, perhaps with slight differences in the telling sometimes?
That's not to dismiss the role that the evangelists and their audiences play in the composition of the Gospels. The Gospels and the rest of God's Word reflect the reality of the Incarnation in a different way, certainly – the qualities and characteristics of human witnesses and narrators play a role in how it's communicated and shaped. It's not to say that's not worth studying. And understanding this truth is essential for helping us understand how God, indeed, works in the world – in our world, our everyday world. It helps us understand to not expect oracles from on high when discerning God's will or presence – that God's here, in the messiness and weirdness of human life that is limited and ambiguous.
But as I said, for a time, this notion of distinction-drawing has been an important focus of non-specialist Bible study, and I've never been comfortable with it as a defining activity or preaching point, especially when the preaching repeats, over and over, "Here, Matthew has Jesus" or "Here Luke has Jesus…."
This is conjecture on my part, and I'm generally not a fan of conjecture or scene-construction when it comes to Jesus words and activities in the Gospels, but this simple possibility – that Jesus could have told similar stories and made similar points in many different contexts – might point to, for some of you, perhaps, a more helpful way to the presence of Jesus in the Gospels than the constant focus on intra-Gospel differences and authorial intention does.
So, with the Beatitudes, instead of emphasizing Luke here has Jesus or Matthew here has Jesus – what can we learn from what Matthew has Jesus say? – the preacher or catechist could explore what we can learn from the different ways Jesus presents these core ideas.
Just throwing it out there.