Well, it seems as if I am determined to be your Nightmare Alley expert in this corner of the Internet.
In anticipation of the release of Guillermo del Toro's forthcoming version, I read the original novel last month – discussion here.
The Criterion Channel added the first adaptation, released in 1947, as part of its "Fox Noir" collection this month, so last night, I watched it.
I'm not going to go into great detail here because some of you might be going to see the new version when it's released (12/17 at this point), and while Nightmare Alley doesn't have what you'd consider a crime or suspense plot, there are, depending on how closely del Toro sticks to the book, elements of surprise as the plot develops.
So, let's talk about the first film, the best we can.
As I mentioned in the earlier post, the film stars Tyrone Power, who was my late mother's girlhood heartthrob. Known primarily for swashbuckling-type roles, Power wanted this role – some sources say he bought the rights to the novel, others say (oddly) George Jessell, who then convinced Zanuck to produce it, did.
In either case, Power was determined to play conman Stan Carlisle, convinced that it would reset his career, especially after his absence from the screen during the years he served in the Marines during World War II – and open him up to more interesting roles. His performance in Nightmare Alley was widely praised – deservedly so – but any long-term career hopes ended when Power died of a heart attack suffered on set in Barcelona in 1958, at the age of 44.
Power's great, especially in his cocksure striving at the beginning of the film and his dramatic decline at the end. The rest of the cast shines too, especially, in my mind, Helen Walker as the psychoanalyst Lillith Ritter (played by Cate Blanchett in the new version) – I always enjoy seeing and reflecting on portrayals of professional women in older films, and she's great – assured and intelligent, comfortable in her skin, conniving, . Walker, unfortunately, had a very difficult life herself.
Anyway.
I wrote earlier of the darkness of the novel, and while the film is also dark in a way – and was critiqued at the time for it – it is nothing like the book, not surprising considering the restraints of making American movies in 1946.
The greatest omission is related to Stan's background. Gresham makes a great deal of this – not surprising, considering his own interest in psychoanalysis. In the movie, Stan had been orphaned as a child, and in the novel, he most definitely is not, and his family life plays a huge role in making him the man he is today – in a thoroughly negative way. As I said earlier, in Gresham's vision, Stan is a con man because he was conned into believing that life was good and he was loved, and that illusion was shattered by his parents' betrayal, not just of him, but of social norms and human decency. There's a very clear motivation for Stan's journey in the novel, but in the film, he just sort of pops up and is who he is.
But again, considering how Gresham positions all of this – to be honest, Stan's issues are Oedipal – not surprising that it didn't make it into a film in 1946! I will be interested to see if del Toro picks up this thread.
Second major difference (and there are a lot of small ones) – in Gresham's novel, the world of Spiritualism is deeply fleshed out. Stan's transition from mentalist to Spiritualist revivalist, really, is more gradual than it is in the film, and it's all quite interesting – again, Gresham knew this world, with its vocabulary and expectations, its veneer of Eastern spirituality, its tricks and deceptions.
In the film, it's all more abrupt and stripped down, formulaic.
This works to diminish the impact of the whole thing, despite Power's performance.
For you see, at the heart of Nightmare Alley is the image of the Geek.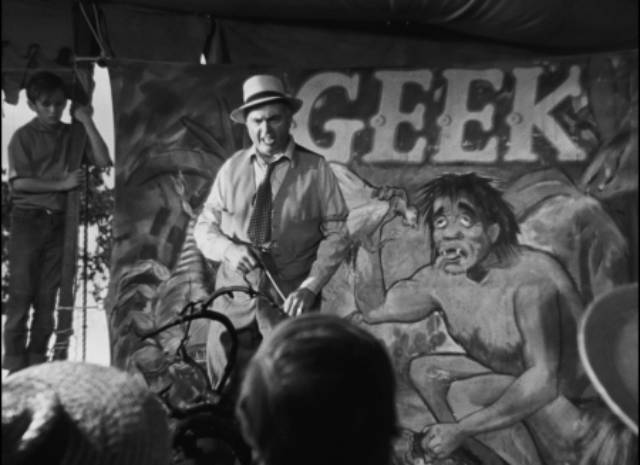 In our day "geek" is understood to be someone who's interested in the arcane, beginning with technical fields, but now expanded to take in any absorbing interest that makes you seem quirky and obsessed to others. But the origin of "geek" is far from that – it's a sideshow act in which a person performs a bizarre, animalistic, horrifying act – in this case (and perhaps in most) – biting the head off of a live chicken.
How, Stan wonders at the beginning of both the novel and the film, does a person get to the point at which he'd do this?
Nightmare Alley answers the question – both in the novel and the film – that's the heart that remains consistent in both. And the answer?
Need to the point of addiction. Isolating, all-consuming need. For what? For attention, success, a mother's love, a father's love, money, sex, power over others, the thrill of deception – all of which comes to a point in the symbol of the bottle – a kind of crystal, a scene near the end – where everything, past, present and future, seems, just for a moment, clarified.
That's where it begins, and that's where it ends.
So yes, the film Nightmare Alley maintains fidelity to this central point and has absorbing performances and interesting cinematography, but is ultimately hampered by the restrictions of American filmmaking of the period – not just the limitations on sexual and violent content, but on the simplifying of plot and tone that's often required by mainstream culture. Limitations of this period don't always work in negative ways, of course – great art can emerge from extremely restrictive environments in which the artist is forced to reach further in order to communicate – I'm a big advocate of that. But in this case, there's a heart of rage and need that's missing because of it – as well as the richness of the pop spirituality that Gresham digs out in his novel.
And then, the end. Gresham's ending has…no hope. 1946 Hollywood generally couldn't have that. So there's some feel-goodism tacked on. It doesn't ruin the thing, but it definitely makes for an adjustment in tone. Unfortunately, I think.
One more thing.
Spiritualism and spirituality and life after death obviously form a large part of the concerns in Nightmare Alley. As Gresham explores it in the novel, his stance is primarily oriented towards how spiritual needs and loss are so easily exploited.
This is touched on in the film, but what's interesting to me is conversation about all of this, as Stan starts veering into Spiritualism and mediumship, between him and his sweet wife, Molly. Again, probably an expression of the values that were required to be inserted, but interesting in its forthrightness, nonetheless…..
Stan: Are you crazy?

Molly: No, I'm not crazy. Just plain scared.

Stan: Scared? Of what?

Molly: I don't know. I can't explain it. But I feel… Well, you're going against God.

Stan: How do you figure that? Do you think I'd be getting all those letters?

Molly: That's what makes it so terrible. Everything you say and do is so true and wonderful… and you make it sound so sacred and holy… when all the time it's just a gag with you. You're just laughing your head off at those chumps. You think God's gonna stand for that? Do you want him to strike you dead? You can't do it, Stan. Nobody's ever done it. Never!