I am an unabashed Graham Greene fan. I honestly think that if you told me I'd be on a desert island with only one author's oeuvre available to me, it would be either Greene or Trollope. Sorry Flannery. You know I love you.
I don't know how long I've got to live on this earth, but I'm pretty confident that as long as I have a Greene within reach, I can be content. The sharp observations, the hope buried deep, deep – deep – within cynicism about human nature…..
Here's an ancient piece I wrote on him – for OSV at the time. Almost twenty years ago. Phew! I've learned a lot, changed a bit, read more Greene, but I wouldn't change much about this piece.
Shockingly, though, and much to my shame, it wasn't until last week that I read his early success, Brighton Rock.
And it surprised me.
I knew – knew – that it was both a thriller and theological in nature, but I had no idea how theological.
I'm not going to do a summary of the entire book, not going to go on and on in detail here. But I want to use the space to reflect on some theology as well as some aspects of contemporary public discourse.
Greene, of course, besides being a superb stylist and observer, is known for being not a Catholic novelist and even barely a Catholic. He'd tell you say that he was a novelist who was a Catholic, but also that he was a Catholic atheist. Or atheist Catholic.
He "converted" mainly so he could marry the woman who would indeed become his wife, and to whom he would be unfaithful for most of their marriage. And his take on faith is not uncontroversial, having adopted Peguy's statement that "The sinner is at the very heart of Christianity. Nobody is so competent as the sinner in matters of Christianity. Nobody, except the saint" as the through-line of most of his work.
Self-justification? Lukewarm, convenient, appealing ambiguity? Perhaps.
But somehow, more true to life and the journey called faith than the black-and-white, simplistic paintings of the earnest, self-defined "Christian" artist.
He seems to be working that out for the first time here in Brighton Rock. As per my habit, I'll let someone else summarize the plot:
Graham Greene's chilling exposé of violence and gang warfare in the pre-war underworld is a classic of its kind. Pinkie, a teenage gangster on the rise, is devoid of compassion or human feeling, despising weakness of both the spirit and the flesh. Responsible for the razor slashes that killed mob boss Kite and also for the death of Hale, a reporter who threatened the livelihood of the mob, Pinkie is the embodiment of calculated evil. As a Catholic, however, Pinkie is convinced that his retribution does not lie in human hands. He is therefore not prepared for Ida Arnold, Hale's avenging angel. Ida, whose allegiance is with life, the here and now, has her own ideas about the circumstances surrounding Hale's death. For the sheer joy of it, she takes up the challenge of bringing the infernal Pinkie to an earthly kind of justice.
And yes, the "Brighton" is the English seaside holiday town, but the "rock" is not a part of the landscape – but a kind of candy. A hard stick candy which has the word "Brighton" infused in it through and through, no matter how much you've consumed. A nod to human nature.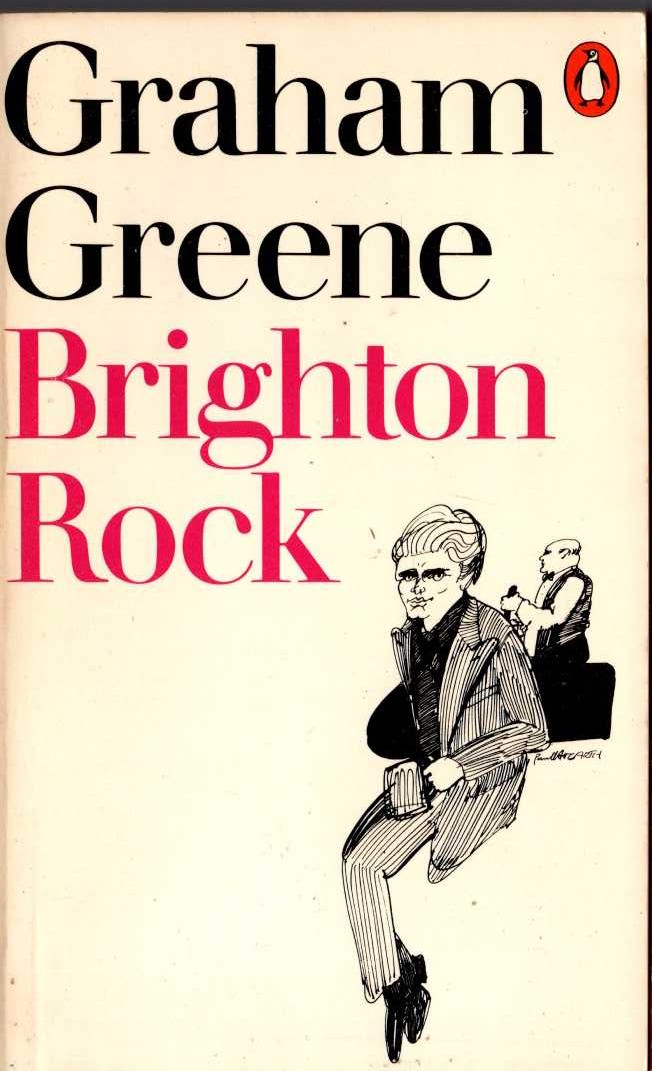 The setting – 1930's Brighton, full of holiday-makers, race-goers and gangsters – is brilliantly written, even as Greene is clearly critiquing much of it, primarily the soullessness of mass, popular culture, the impact of the machine on human interaction, and (despite Greene being quite a snob himself) – the negative impact of impoverishment on human life.
But the central compelling aspect is the unrelenting complexity of that Catholic understanding of the cosmos, our part in it, and the role of choice and, yes, the nature of good and evil.
Pinkie is cold and responsible for deaths and ready to see how far he must go in order to protect himself. Ida, who had a brief dalliance with one of his victims, is indeed, the avenging angel, out to find the answer to the mystery, to get justice for Hale and protect Rose, the young woman who's been brought into the mess and whom, Ida is certain, will meet a terrible end from Pinkie because of it.
So there you have it, on one level – bad guys and good gals and guys, right?
Not so fast.
Of course Pinkie has done great wrong, and of course his acts exist in a world where justice is required.
But what is this about, when Greene seems to contrast Ida's fixation on "right and wrong" in a negative way with Pinkie and Rose's understanding of "good and evil?"
Well, here you've hit the core of what Greene was exploring. From a post at the Britannica site:
Although Ida is ostensibly the heroine of the novel, her heroism belongs to the blank morality of the detective novel, where the measure of goodness is in the ability to solve the mystery. By contrast, through his contemplation of his own damnation, Pinkie's evil achieves a sense of moral seriousness that Ida's agnosticism can never obtain. Rose is Pinkie's counterpart here, sharing his Catholic faith and prepared to corrupt herself in order to protect a man that she believes loves her. For Pinkie, the part he plays in Rose's corruption will ensure his damnation much more clearly than his role in the murders that punctuate the novel.
Ida – a totally appealing character, means well and is motivated by admirable qualities: affection, loyalty, fellow-feeling and justice – but ultimately, it's clear, she'll forget and she'll move on.
In the universe of the "Romans" – Pinkie and Rose – no such thing is possible. Everything matters, everything has weight and Hell exists.
One could go on for hours about this, but this isn't the spot for that. I just have two final points to make – if I've made any at all.
First, if you want a break from the ridiculous binary and narrative absolutes (as opposed to theological absolutes) of contemporary discourse, even in the Catholic world – pick up some fiction. You may agree, you may disagree, but I'm certain you will recognize some truth about the real world.
Secondly, Rose. Much attention is paid to the characters of Pinkie and Ida in Brighton Rock, but it's perhaps Rose we should be listening to. Here's an excellent article – a chapter from a book – about the character of Rose, quite well-informed about Catholic theology and spirituality.
The scholar makes the case – which had occurred to me as I was reading the novel – that Rose, as flawed and weak as she is, works in the story in general and in Pinkie's life in particular, as the loving hand of God reaching out, offering another way.
Yes, Rose throws her lot in with Pinkie, helping him to cover up his crimes, knowing full well that he has, indeed committed those crimes. But on the other hand, Rose – after their admittedly brief acquaintance, declares she is in this with Pinkie because she loves him. And it's clear that the extension and presence of love to Pinkie at this time in this place could be his salvation. It could. If he said yes, if he opened himself up, rather like the Misfit in "A Good Man is Hard to Find," being met by the Grandmother's recognition, "You're one of my babies!"
As Katherine Walton says in her really excellent article on Rose in Brighton Rock:
Rose's faith makes her the novel's only character to provide an apparatus by which to understand a divine force as it is experienced by humans within the world. Unlike Ida, both Pinkie and Rose believe in Good and Evil and their respective "two eternities,"but only Rose exhibits faith in the redemptive power of God. Despite her belief that orthodox religious practices such as prayer and confession cannot help her, Rose instinctively reaches out toward a God who may be distant but not inaccessible; though she refuses to repent for her sins, her faith moves her toward contrition, toward her time with the priest in the confessional at the end of the novel and, perhaps most importantly, toward the power of spiritual self-determination, that will to decide for herself what meaning she might derive from her "Roman" life. ..
…At the novel's end, just as she accepts the priest's words in what Gerald H. Cox considers as "clearly an act of faith" in a similar act of community, so too does Rose agree to pray not merely for Pinkie's soul, but for the priest, as well. In this moment, it is as if Rose suddenly becomes aware that her sin does not sever her from, but rather binds her ever more tightly to her God, and that through this connection, she is most in unity with those like her. When previously she believed that "her prayers stayed here below with the siphons and statuettes: they had no wings," following her conversation with the priest, she begins to understand that the divine can be made present through human action. She cannot bestow salvation, but she can seek community with God through the action of love.
Earlier today I read a tweet or a blog post or something critiquing the mode of "managing a pandemic via narrative." Perfect, I thought – not only for the covid situation, but for so much of contemporary life.
Fill in the blank, can you?
Managing ________________________________________ via narrative.
And that narrative always involves condemnation, walls, absolute divisions, vituperation, dismissal, accusations and thoroughly good guys versus thoroughly bad guys.
But guess what?
In the history of the highest forms of authentic "narrative" – art, no matter what the form – what stays with us, what prompts us to the deepest reflection, what holds up an actual mirror to our lives are those that dig deep and refuse to let us rest easy in our preferred war-like state, gazing intently over the trenches, so sure of ourselves.
"You cannot conceive, nor can I, of the appalling strangeness of the mercy of God."