Two items of note the past few days. Oh, there are more, and they just keep coming, but these are most pertinent to the American situation.
First, Hobby Lobby lost a transgender bathroom case in Illinois. An appellate court ruled:
Hobby Lobby Stores Inc. violated Illinois anti-bias law by denying a transgender woman employee access to the women's bathroom, a state appellate court ruled in a case of first impression.

Meggan Sommerville's sex is "unquestionably female" and Hobby Lobby unlawfully discriminated against her based on her gender identity, the Illinois Second District Appellate Court said in its Friday ruling.

"Sommerville is female, just like the women who are permitted to use the women's bathroom," the court said. "The only reason that Sommerville is barred from using the women's bathroom is that she is a transgender woman, unlike the other women (at least, as far as Hobby Lobby knows.)"

The ruling marks a significant development in an element of LGBT employment rights that the U.S. Supreme Court didn't address in its landmark 2020 decision in Bostock v. Clayton County, which said federal workplace law prohibits discrimination based on gender identity or sexual orientation.

"This decision will have national implications and start the process of courts around the country addressing the issue of bathroom access," said attorney Jacob Meister, who represents Sommerville.
From the decision:
"Hobby Lobby contends that an individual's "sex"—the status of being male or female—is an immutable condition. However, the plain language of the Act does not support this conception. There is simply no basis in the Act for treating the "status" of being male or female as eternally fixed……."

"Given the interrelationship between "sex" and gender identity in Illinois law, the record establishes that Sommerville's sex is unquestionably female. She has undergone years of effort and expense to transition, and she appears to be and comports herself as a woman. Of even greater significance, her status of being female has been recognized not only by the governments of this state and the nation but also by Hobby Lobby itself, all of which have changed their records to acknowledge her female sex. Given this recognition, Hobby Lobby cannot plausibly assert that it is denying Sommerville access to the women's bathroom on the ground that she is not female"
Next, an thorough and frankly depressing Substack post from a writer about last week's Loudon County (VA) school board meeting and decision about access. Here we go.
On Wednesday, August 11, the Loudoun County School Board passed a gender identity policy by a vote of 7-2, despite ongoing opposition from parents and community members. The policy, referred to as Policy 8040: Rights of Transgender and Gender-Expansive Students, removes sex-based protections for girls in sports, prioritizing instead a subjective 'gender identity'.
Gender-expansive.
The meeting in question was one you might have heard about – in which a teacher resigned on the spot, as she revealed that system educators were being encouraged to report their colleagues' WrongThink.
Activist Kara Dansky was at the meeting and reports here. Of course there was the usual attempts to silence and shut out dissent.
It is hard to know exactly what to make of all of this, but it certainly seems to be the case that the board knew that policy 8040 is extremely unpopular and was actively stifling public discussion about it by adopting unprecedented security measures designed to frighten concerned residents and parents into not speaking out. At a school board meeting.
As I have written time and time again, this approach is problematic, not only because it is grounded in fantasies about identity, but because it opens the door wide open to exploitation, abuse and worse.
With policies and procedures that give rights and access based on self-declared gender identity – gender-expansive!! – an institution has no grounds to put up any barriers. Any male can access a female space and say, "I'm in girl mode today" – and no one can do a thing about it. That's the point. We have moved way beyond the point of any necessary relationship between medical procedures (hormones, surgery) and "gender" – it is all about self-identity. When you can change your gender marker on your passport without any supporting documentation, no matter what it says on your birth certificate – that shows you where we are.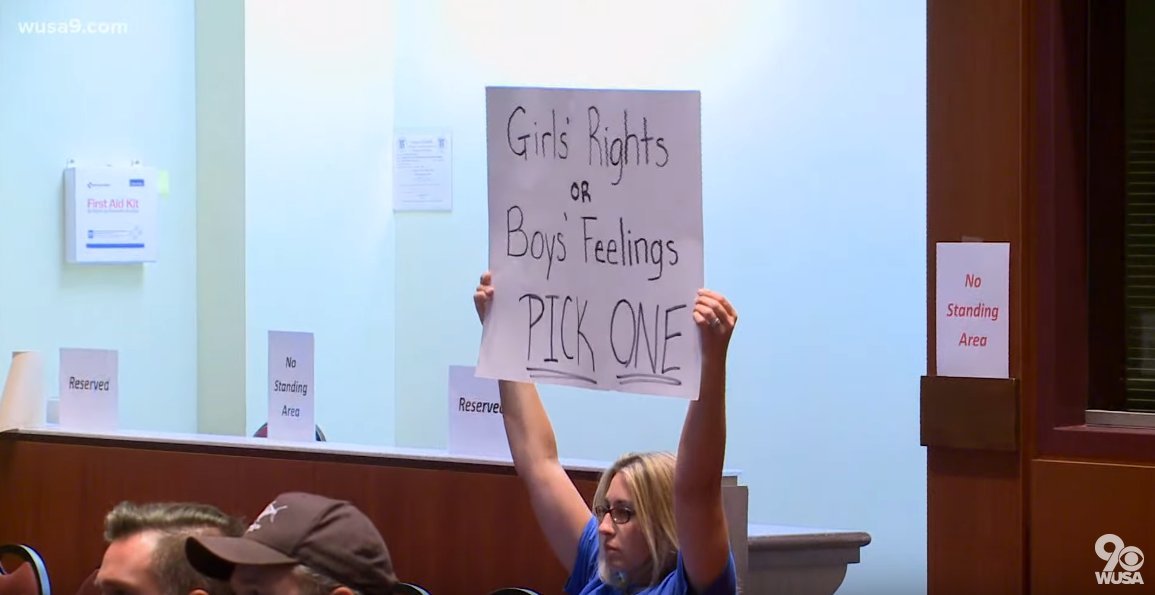 And just a reminder, related to the most important news of the day:
If a guy can be treated as a woman just because he says he wants us to….surely Afghan women can just identify as male and save themselves some pain….right?
No?
That's not how it works?
Huh.