We interrupt this endless and boring day of churchblogging with a report on last night's film extravaganza.
First, as vowed, the theatrical version of Amadeus was obtained at the library. We had to go out to Leeds, Alabama to fetch it, but we combined it with stops at 1) Bass Pro Shop 2) the outlet mall and 3) Buc-ees, so yes, we had ourselves a big old day.
(Explanation, in case you missed it. At this point, the only streaming version of Amadeus, as well as the most easily available DVD version is that of the "Director's Cut," which, in the opinion of many, is worse than the original – the added twenty minutes don't serve the plot and add extraneous, irrelevant nudity, the latter being at service of a ridiculous suggestion that Constanze Mozart offered herself to Salieri which, even if you accept the fact that this isn't a biopic, just doesn't fit. It also bumps the running time up from an already hefty 2 hrs and 40 minutes to a straight-up three hour experience. I've read that a new disc of the theatrical version is planned or in preparation, but I wanted to watch it now and I wanted College Guy to watch it now, so out to Leeds it was. Most of the other branches only have the Director's Cut.)
Amadeus never disappoints – me, at least. (It's also a favorite of Film Guy Son who writes about it at length here.)
But since we started it early, there we were at 9pm…who wants to watch something else? Well, both of us were game, so I picked The Personal History of David Copperfield – the adaptation of the Dickens novel by Armando Iannucci – the creator of the darkly comic Veep, other darkly comic British shows, the darkly comic HBO show Avenue Five, as well as the darkly comic The Death of Stalin.
So, you're thinking….darkly comic? Right?
Nope – it's the opposite, perhaps to its detriment, but perhaps no – if we maintain that works of art should be evaluated mostly on what the creator intended for it, not what we think it should be about.
I quite enjoyed it. It's two hours long, which makes it short in contemporary film terms, and it goes quickly, stuffed full as it is with plot and character, squeezing the long novel into just 120 minutes.
Which means, of course something is lost. A lot is lost, but again – Iannucci isn't stupid and obviously wasn't attempting to do all of David Copperfield in a two-hours time span. He was up to something different, which I think was to use the novel as a jumping off point to reflect – in a jolly, antic way – about life, art and the relationship between them.
You may not have ever read the novel, but even if you haven't you should know the first sentence. And if you don't know the first sentence, read it, and commit to memory: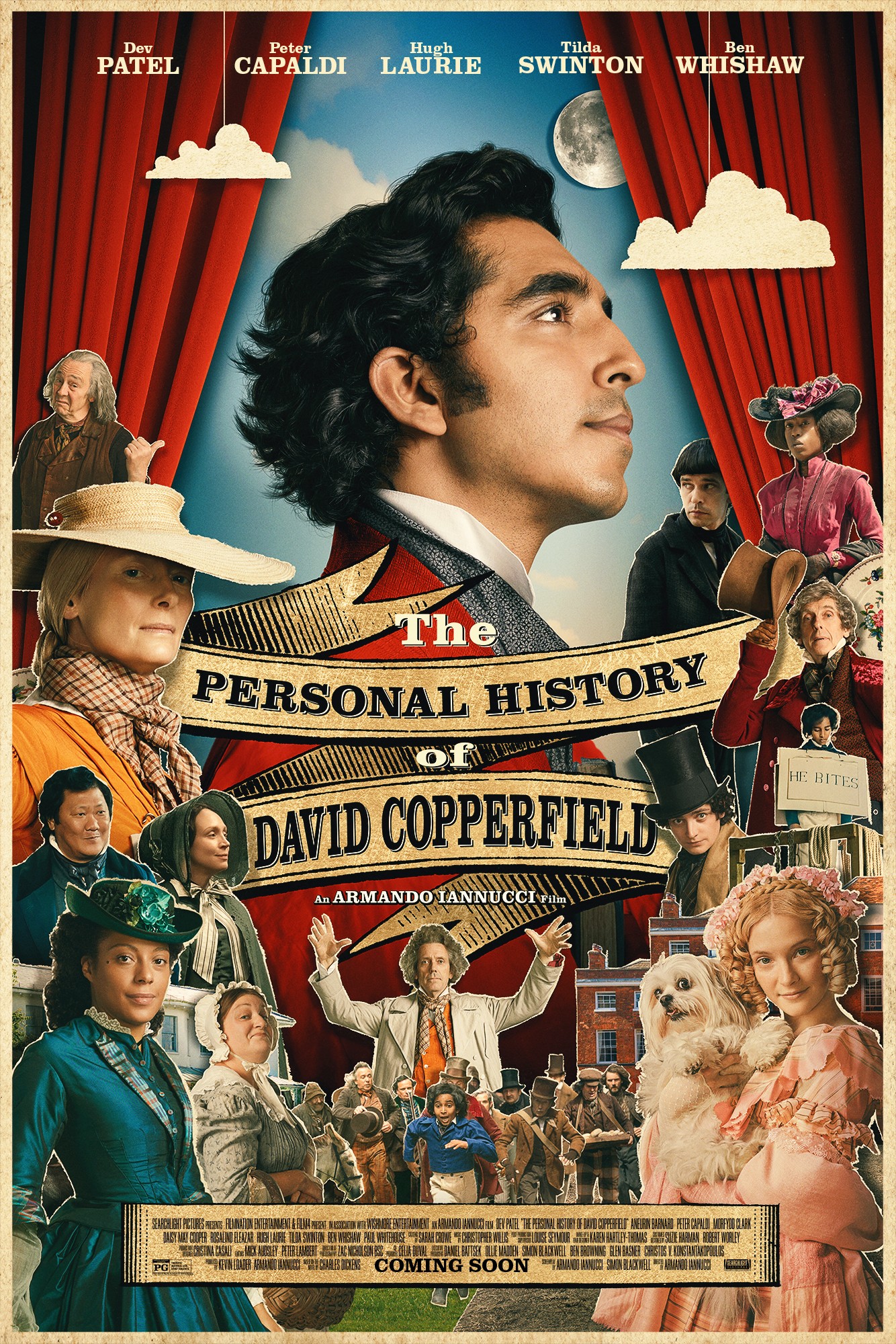 Whether I shall turn out to be the hero of my own life, or whether that station will be held by anybody else, these pages must show.
An excellent life philosophy, I think, one worth making a child memorize alongside the Lord is my shepherd and for God so loved the world and …. to know Him, to love Him, and to serve Him in this world and be happy with him forever…
And so the film is framed, beginning and ending with Dev Patel as David performing a reading in a theatrical setting, with the two hours in between stuffed with a romp though the plot acted by a marvelous cast in a sometimes dreamlike fashion. It works. For what else can you do with David Copperfield in two hours' time except play with it?
The casting is color-blind and wonderful. I have strong opinions against color-blind casting in historical pieces – as in, plays or film that are actually seeking to represent history – like the recent three-part British series on Anne Boleyn, with the lead played by Black actress Jodie-Turner Smith. Three reasons I'm not a fan:
It's ahistorical. And yes, I'll register my objections to other non-race related ahistorical casting as well when the occasion arises. Sure, no problem. I wouldn't write a manifesto about it, and wouldn't boycott anything, but in the end, I'm a nah.
The impact is to attempt to let predominantly white culture and oppressive historical realities off the hook, as it were. I never did see Hamilton, but it never struck me as right that the color-blind casting there – aside from Hamilton himself, whose mother might have been mixed-race – served, it seemed to me – to obscure the profound injustice that could have been avoided – but wasn't – in America's founding.
There are so many amazing stories about individuals and communities who aren't European caucasians out there, both in the past and the present. So many. Untold, unheard and nearly forgotten. I'd rather see those brought to screen than one more bloody Tudor drama or regency romance, but this time with "minorities." Who. Cares.
(Perhaps you want me to tie this to the historical inaccuracies in Amadeus. Sorry. Won't do it – for Amadeus isn't a biopic. It's a version of a play, which is in fact, not a biographical work either, but an exploration of genius, personality, character, envy and the apparent randomness of the Muses.)
But. After that speech – ahem. I thought the cast of David Copperfield was great, all around. It's always fun to spend a couple of hours in the company of the likes of Dev Patel, Peter Capaldi, Hugh Laurie, Ben Whishaw and Nikki Amuda-Bird. And although this is set in a certain period and of course it's "unrealistic" to have a Black daughter of an Asian father – this is a fantasy of sorts, and it just works. Very well.
My only hesitation about this adaptation is that the novel David Copperfield isn't Bleak House, but it does, indeed incorporate social and cultural critiques, since of course, this is Dickens. And Armando Iannucci's past work is trenchantly and consistently critical of political and social absurdities and follies. But it's almost as if he took a vacation with this – a modern master of social and political satire adapting a novel that embodies social criticism….and then eliminating most of that in the adaptation?
Here's a good piece on that issue.
Odd, perhaps, but my response is that rather than make that the issue, I'll trust the creator – he did what he set out to do, and whatever that is – which I think is a nudge for all of us to have a sense of wonder about our crazy lives and the crazy people in them – and then make something out of all of it – I'll be there for it.
Tonight? Blade Runner 2049, which is being viewed without me, since I have zero interest in it. Tomorrow? If people are around, Steven Soderbergh's new one, No Sudden Move. I mean, featuring, among others….."….Brendan Fraser, who's somehow turned into Sydney Greenstreet" – can you not watch? That's the plan, anyhow.