Since we're All About the Books today, let's do a quick rundown of what I've been reading over the past week. Maybe you'll find something good in there.
None of these were written by 21st century 60-year old cradle Catholic women of WASP-French-Canadian extraction, but I still found them interesting and engaging. Mostly. Go figure.
Uncle Tom's Cabin. I'd read it once before, when now-College Kid was in high school. What struck me back then, as I mentioned in this blog post, was the deeply religious aspect of the book. As a student of 19th century American religion and reform movements, I shouldn't have been surprised, but I was. Spiritual passions run as strongly as political passions here. Tom, of course, is a Christ figure (as is little Eva), but just as significantly to me is Stowe's strong point about the power of witness.
Over and over, she makes the point: Christians who either defend slavery or – just as bad – throw up their hands in the name of social and political peace (see Letter from a Birmingham Jail) – are counter witnesses to the truth of Christianity. How, she asks through her narratives and her characters, can anyone take this faith seriously when its professed adherents treat other human beings as chattel?
I do wonder how much this novel is taught in the present day, not just because of the uncomfortable racial assumptions and portrayals that lent themselves, subsequent to publication, to terrible stereotypical representations, but because the book is such a deeply religious one.

For Stowe's fundamental point, even more foundational than the immorality of slavery, is about Christian freedom. Tom may be enslaved in earthly terms, but he is a free man because he belongs to Christ, even if the unjust laws of the United States do not recognize that freedom. Tom is a martyr, not for the cause of earthly freedom, but for the sake of the souls whom he dies to protect and who find real freedom – salvation – because of that death.

I can't even imagine a modern public school classroom being able to deal with this intense religiosity.
So, is this novel problematic in the classroom? It shouldn't be. Yes, some of the portrayals verge on caricature, and Stowe does, consistent with her time, describe Black characters in terms of aspects "characteristic to their race" – you know, "they" are emotional and naturally this and that. A skilled teacher can certainly use that and apply it to the present, as she can contextualize the now-offensive language, particularly since the story is so strongly anti-slavery and has as its entire purpose confronting the white reader with the undeniable humanity of Black people and the evil of slavery. From a historical perspective, to read Uncle Tom's Cabin along with 19th century Black writers such as Douglass, Washington, Chesnutt, Dunbar and Pauline Hopkins (all given ample space in the new Norton anthology my older son used in college and we are using), presents a good overview of the period, challenges and all.
2. Daisy Miller – Should I be offended, as a woman, by the portrayal of this lightweight female character? I did feel myself rebelling here and there: All right closeted Henry James, you think you understand women so well…but then I settled myself down and reminded myself: It's a character. This is who the character is. These are her particular characteristics. Of this character.
And of course, no one really comes out well. That's a good thing to remember if a character in a book or film strikes you as offensive or unfairly portrayed. There might be truth to your perception, for that does happen – but before you pass final judgment, take a look at the other characters in the piece. Perhaps they are all dolts? It could happen.
Anyway, I enjoyed Daisy Miller – although I think I liked Washington Square more and moreover, I feel comfortable waving goodbye to Henry James at this point. My experience with the sentences in In the Cage was so dispiriting that I'm confident that high school-appropriate James is about as much as I can handle.
"My father ain't in Europe; my father's in a better place than Europe."

Winterbourne imagined for a moment that this was the manner in which the child had been taught to intimate that Mr. Miller had been removed to the sphere of celestial reward. But Randolph immediately added, "My father's in Schenectady."
3. Related – those of you who've read both will know why – the short story "Roman Fever" by Edith Wharton.
Plot twist! I admit…I didn't see that coming….nice one, Edith.
4. Also by Wharton: "The Other Two." Very funny in its own way, with a fascinating glimpse into late 19th century New York personal and social moral codes nd social mores. Eye-opening for those who think that multiple marriages are a 20th century invention.
(These were just the Wharton stories in the Norton anthology).
5. Stephen Crane: "The Bride Comes to Yellow Sky," which I'd read before, "Horses" – sometimes called "Horses — One Dash," "The Blue Hotel," and "The Open Boat."
What a marvel Crane was, and what a tragedy he died at the age of 28. He is one of the great American writers, anyway, but what he might have written had he lived longer?
Gorgeous, precise descriptions, great ironic humor, and then the Crane naturalism, which places the individual in the midst of forces he can't control and will, eventually overwhelm him.
Do I "agree" with everything I read in Crane? No. He verges on caricature of ethnic types – and where are the women?! Underrepresentation! – oh, and I certainly don't "agree" with his existential perspective. But he presents that perspective engagingly and powerfully, it makes sense in the context of the stories he's telling, and as such, it's a perspective I can – and must – have a conversation with.
For yes, it does indeed seem at times that Crane's right – that the universe is not only indifferent, but perhaps at odds with human striving and purpose. What's the response?
I mean….
None of them knew the colour of the sky. Their eyes glanced level, and were fastened upon the waves that swept toward them. These waves were of the hue of slate, save for the tops, which were of foaming white, and all of the men knew the colours of the sea. The horizon narrowed and widened, and dipped and rose, and at all times its edge was jagged with waves that seemed thrust up in points like rocks.

Many a man ought to have a bath-tub larger than the boat which here rode upon the sea. These waves were most wrongfully and barbarously abrupt and tall, and each froth-top was a problem in small boat navigation.

The cook squatted in the bottom and looked with both eyes at the six inches of gunwale which separated him from the ocean. His sleeves were rolled over his fat forearms, and the two flaps of his unbuttoned vest dangled as he bent to bail out the boat. Often he said: "Gawd! That was a narrow clip." As he remarked it he invariably gazed eastward over the broken sea.

The oiler, steering with one of the two oars in the boat, sometimes raised himself suddenly to keep clear of water that swirled in over the stern. It was a thin little oar and it seemed often ready to snap.

The correspondent, pulling at the other oar, watched the waves and wondered why he was there.
6. Oh, back to Wharton – Ethan Frome, which I'd read years ago, and misremembered a bit. I thought that the affair was actually consummated and more prolonged and had forgotten the suicidal intentions of the climax, but still. I felt it might have done to be a longish short story rather than a novella – I did get a bit weary of the agony. But, along with serendipity, irony is just about my favorite dramatic trope, so there's a lot of satisfaction in this ending.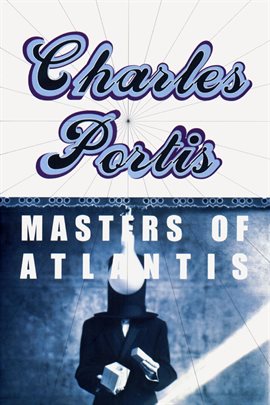 7. Oh, and yes, The Masters of Atlantis by favorite Charles Portis. After finishing, can confirm that this is my least favorite Portis. I don't think I could recommend it to anyone, although it does have its fans on Goodreads and Amazon, I see. I just found it so different, so much less personal than the other Portis I've read, which is all of them. I think the difference is voice. All of the other Portis novels are told with a very distinctive narrative voice. They're either written in a wry first person or an interiorly-aware third person. I'm sure there's a term for that, but I don't know it. That is, those narrative voices have a point of view. No such thing in Masters of Atlantis. It's a chronicle, more or less, and I didn't find it to be even effective as a satire of religion, esoteric nonsense or cults.
For months now, I keep starting The Good Soldier, since it seems to be included in lists of somewhat-Catholic-literature – but all asleep at the same point, about three pages in, every time. Maybe I'll try reading it in the afternoon instead.
What's next?????