I actually wrote part I of this a little over four years ago, when lots of folks in my circles, both immediate and distant, were fretting about what to tell the children about the weird guy of dubious personal morality who'd just been elected president.
Here it is. As you can imagine: Zero sympathy.
The conversation seems to be recurring this week, with a slightly different concern. Times are strange and disturbing, no matter what your political views. Insurrection! Censorship! Democratic norms!
What do we tell the kids?
Well, you'll tell them whatever your worldview suggests. And hopefully, no matter what that worldview is, you won't expose children to unnecessary anxiety about events over which they have no control.
It can perhaps, be an opportunity to educate from a few different angles:
The ideals and framework upon which the government and social compact of this country you happen to live in were built – and how we're living up to them in the present day, or not. It's always good to go back to the Constitution and the discussions about our founding to remember what all this is supposed to be about.
The weakness and limitations of human nature and activity.
And perhaps, the moment offers a chance for a greater perspective, both for them and for those of us who have children in our care.
What shall we tell the children about American political chaos… as they sit in their warm house with plenty of food to eat and a big-screen TV to watch all day, surrounded by books, clothes without holes and decent medical care on call in case they fall ill?
I dunno. Maybe put yourselves in the place of parents who have to think what will we tell the children who wake up to this every single morning.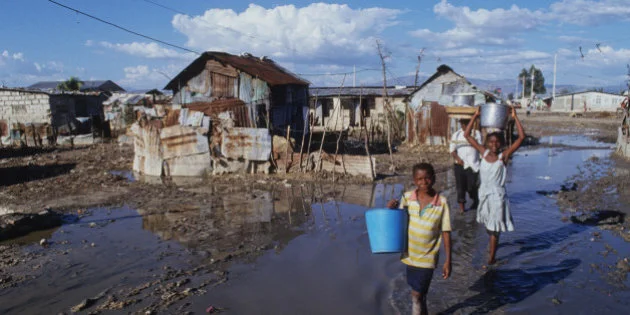 ---
So, anyway.
As I was skipping through a few of these what shall we tell the children posts, I realized that if we're sticking to First World Problems, I have A Story.
What to tell the children? Well, let's remember October 1962.
Of course, I have no memory of it myself, but only know what my parents told me later in life. Somewhere in young adulthood, I suppose.
That as the Cuban Missile Crisis loomed, and people really were wondering if they'd be blown off the face of the earth tomorrow (See the Meditations in an Emergency episode of Mad Men), Americans made plans.
They stocked up. They built bomb shelters.
My parents agreed that if the bombs were launched, they'd overdose me on sleeping pills.
This sweet thing, biking along in Lubbock, Texas? In October 1962, no less, completely unaware of what might be in store?
Yeah, it's really not so bad. It's really not.