And as I'm composing a post on St. Elizabeth Ann Seton, trying not fall into a rant of one sort or another about
the narrow-mindedness and elitism of most modern Catholic educational institutions in this country, I think how unenthusiastic I am for the beginning of our homeschooling high school spring semester and I think…yeah, maybe *I'm* the one who should be begging for her intercession and looking to her as a model today…
Eye…meet beam…
As per usual.
Anway, let's start the new year out with a digest.
Writing: Was in Living Faith last week, sent off a new batch (July-September) this morning. Wrote some blog posts of late:
On a novel, Vespers in Vienna – part one here and part two here. On, yes, St. Elizabeth Ann Seton. On Epiphany yesterday. On how to praise God in Te Deum here. On Lent! Which starts…in a few weeks! On Public Domain Day.
This week: I think there are loose ends of some projects to tie up. Get my head deeper into the novel I'm currently tackling.
Reading: Vespers in Vienna, as noted here. That interrupted my first-ever read of Don Quixote – I figured the latter being so long, I'll interrupt it frequently for shorter reads.
Also last night, I read Melville's Bartleby the Scrivener – to see if we should read it here in the homeschool. What an odd piece. I need to write about both it and The Overcoat in this space. I think we'll read the latter, but maybe not the former. It's not that it's too hard, I just think our time is better spent on other, less abstruse works of more immediate appeal. Although we'll see.
Also will be reading the new Catholic news and analysis Substack from JD Flynn and Ed Condon: The Pillar.
Greatly needed.
Cooking: At various times – beef stew, chicken tortilla soup, biscuits of one type or another and last night, Serious Eats' Chicken Parm. I'd never made Chicken Parm before – breaded filets of chicken are one of my go-tos, so I never thought it was necessary to douse them in tomato sauce and add cheese, but it was suggested to me, so I went ahead – yes, the end result was very different from my ordinary filets, not just because, well, it's a different recipe, but also because the breading technique here made them ENORMOUS. I didn't eat a lot of it, but what I did eat was very good, if I do say so myself.
Which we ate while watching…Goodfellas. So, appropriate.
Watching:
As mentioned, Goodfellas, which was okay, but somewhat scattered, with some great acting by some – and some overacting by others. I was mostly watching it, thinking about how The Sopranos took all these motifs form this and all the other mafia pop culture and built on them. For the better I think. And also about the sly casting choice of Lorraine Bracco as Tony's therapist.
Also, based on Eve Tushnet's listing of it in her top ten of the year: Big Deal on Madonna Street, which was an entertaining very Italian caper. In my view, very Italian, not just because of the exaggerated speech and gestures (not just because they're…Italian, but also because it's a comedy), but because of its ending. Which I don't really want to spoil, but struck me as…well..I'll say it again…very Italian.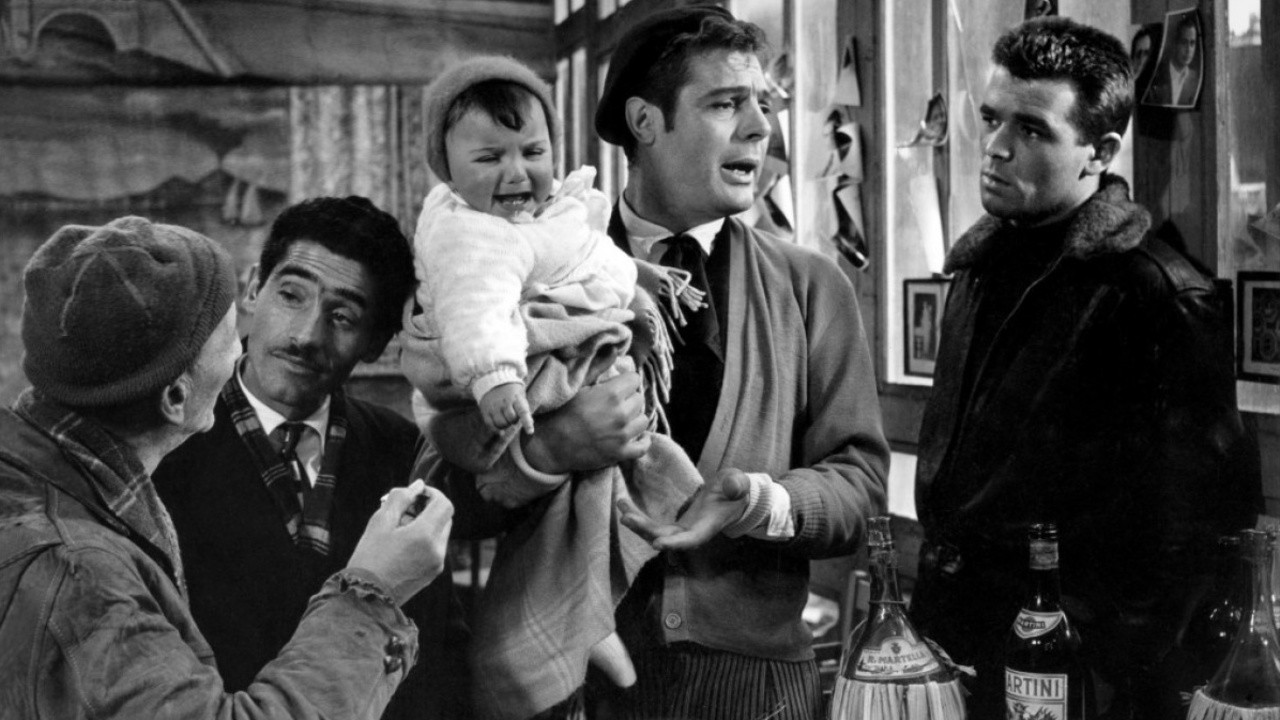 Rewatching Mad Men with College Guy. We're about to finish up season 2.
Att some point over the past two weeks, College Guy and I watched The Royal Tennebaums – I think I saw it in theaters, and this was one of his multiple viewings. I liked it, but enjoyed The Darjeeling Limited more.
We also watched Bottle Rocket – Wes Anderson's first movie – earlier this week. We watched the full-length feature, and then after, watched the short that Anderson entered at Sundance and got him on the road to Hollywood, so to speak. We enjoyed both, but also both agreed that the short was "better" in a way. The longer film was clearly padded – not all the padding was bad, and a lot of it was entertaining, but there was a random charm and mystery about the short that was unique. It led to a good discussion about how a creator can tell when he or she is "finished" – when he's said all he needs to say in just the way he wants to….and not too much.
Of course, that's almost impossible.
Over on the east coast, Film Guy Son watched all of Fellini and ranked them…
...and taking considerably less time, watched Rian Johnson's first film, Brick, and raves.
Listening: Let me outline Organ Son's work over the past ten days, and you can guess what we've been listening to:
Three Christmas Eve/Christmas Masses. One Holy Family Mass. Two Mary, Mother of God Masses. One funeral. One Epiphany.
Besides that, because he is next tackling Mendelssohn's Rondo, I got caught up in a slew of Mendelssohn chamber music – his Octet is my favorite so far. A current playlist here.