Happy New Year to you. Just a note on how life changes, and how time goes on in case you are wondering if you will ever be out of this or that stage of life…
Our New Year's Eve? Well, besides the far-flung in NYC, Charleston and Louisville, all celebrating in their own ways, the three of us here spent the evening, first at Mass – two of us downtown at the Cathedral, and then the youngest playing at his parish job, driving himself now. After our Mass, College Guy drove off to meet up with friends, youngest drove from church to a friend's house, then drove back here and walked down to a neighborhood friend's house for the rest of the night.
And I sat and read Gogol and Don Quixote and listened to Mary Lou Williams.
How about that.
Just as no time is tricky to navigate, so, when it surprises you is so much…time.
Not much writing in this space this week. Te Deum is here. I was in Living Faith on Tuesday – and will return there in a couple of weeks. A new set of those is due Monday (for the July-August issue), so I'll be working on those over the weekend, as well as planning out at least the first part of American Literature for the high schooler.
Although we might start with The Overcoat for some general work in symbolism and such. I spent so much time thinking about it…why let it just rest in my head? Might was well share the bounty…
I will say that I've been gratified and humbled over the past few days as I've received several notes regarding my 2020: A Book of Grace-Filled Days that wrapped up yesterday. Folks said they were actually sorry it had come to an end, and they appreciated what I had to share. So kind! It was not a super-fun book to write (just imagine writing almost 400 individual devotional entries…..) and I don't plan on doing it again any time soon. Maybe in another ten years when more life has happened.
But it is so nice when people take time to write and let you know that your work was helpful to them in some way. Thank you!
(And I'll just mention that it's not out of print – still for sale, as are all past editions by other writers – including 2021, of course. No, the dates won't match, but you can still buy it and match the feast days yourself. And no, I don't profit from your purchase in any way – it's the kind of work for which you're paid a flat fee – no royalties. Just making the suggestion!)
Are you making resolutions? Well, here's a Twitter thread featuring some of Dorothy Day's New Year's resolutions over the years.
Here's 1960: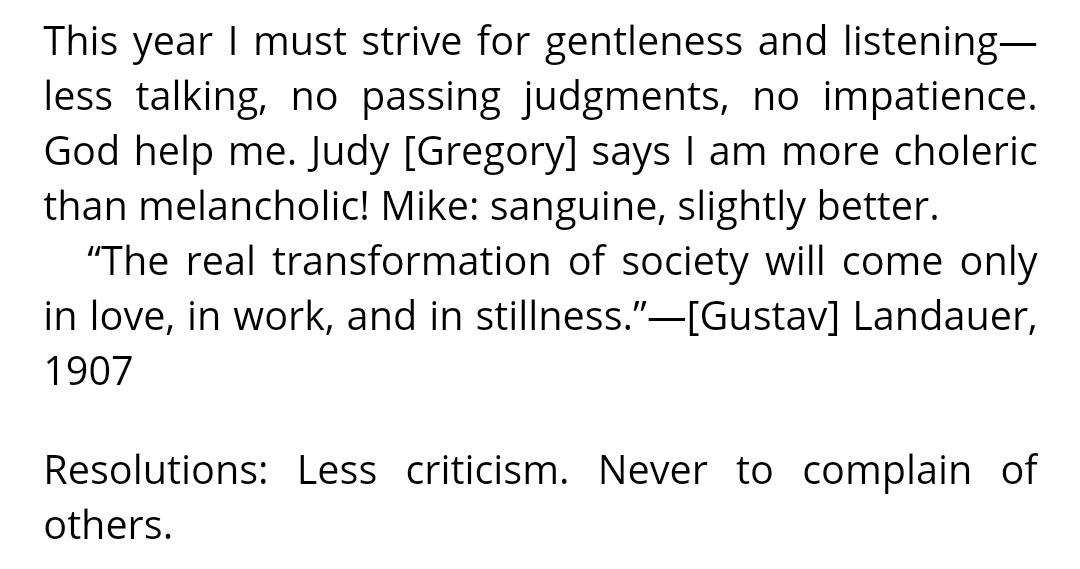 I recently discovered the Public Domain Review, which is such a treasure chest of fascinating, beautiful, interesting images and information.
Here's a link to their top ten posts of the year. Including this post on 19th century Japanese firemen's coats. Gorgeous.
What a lovely video this is, on Etsuro Sotoo, the Japanese stonemason who is now the Chief Sculptor at Sagrada Familia.
"Sotoo was motivated mainly by the opportunity to be exposed to stone," says director David Cerqueiro, "and later by the admiration of the genius of Antoni Gaudí—back then a still-to-be-recognized figure of outstanding universal value."

Known as quite a guarded and private character, Sotoo only granted Cerqueiro the opportunity to profile his life's work after the director made several attempts to meet with him in person and over email. "Some of those attempts included having to attend mass at the basilica several times," says the director. "The film briefly explores, tactfully but sincerely, the emotional inner workings behind a forty-year career devoted to one project." 

Gaudí's unfinished masterpiece continues to exercise its charms over Sotoo who converted to Catholicism so he could gain a deeper understanding of Gaudí's genius and his relationship with God through architecture. "I discovered an artist profoundly driven by faith. Although encased by organized religion, his faith is more closely related to the transcendental aspirations of genuine art," says the director. "That's how I ended up with a subtle portrayal of an ontological inquiry, personified by a surprisingly little-known major artist who seems to be more preoccupied with the intrinsic moral legacy of his work than by its formal expression or its public recognition."
Those of you who've followed me for a while know about the Sister Servants of Casa Maria here in Birmingham. A small order dedicated to prayer (of course) and retreat ministry – the also do catechesis of various kinds in parishes in the area.
They provided music for one of our Cathedral's Sunday Vespers during Advent. You can listen here.
Both of my younger sons spent a few years serving Mass and Benediction at the convent, and we have another connection, as well – my college roommate from UT (the real one, in Knoxville) is a sister there.
They haven't been able to have public Mass or retreats since March, of course, but I thought you'd enjoy reading their latest newsletter and taking a look at a couple of their videos – you might remember I posted a link to their offering of "I'll Fly Away" a few months ago. This is simply of their Christmas preparation, with more at the linked Vimeo page.
Therefore, we can ask ourselves: what is the reason why some men see and find, while others do not? What opens the eyes and the heart? What is lacking in those who remain indifferent, in those who point out the road but do not move? We can answer: too much self-assurance, the claim to knowing reality, the presumption of having formulated a definitive judgment on everything closes them and makes their hearts insensitive to the newness of God. They are certain of the idea that they have formed of the world and no longer let themselves be involved in the intimacy of an adventure with a God who wants to meet them. They place their confidence in themselves rather than in him, and they do not think it possible that God could be so great as to make himself small so as to come really close to us.

Lastly, what they lack is authentic humility, which is able to submit to what is greater, but also authentic courage, which leads to belief in what is truly great even if it is manifested in a helpless Baby. They lack the evangelical capacity to be children at heart, to feel wonder, and to emerge from themselves in order to follow the path indicated by the star, the path of God. God has the power to open our eyes and to save us. Let us therefore ask him to give us a heart that is wise and innocent, that allows us to see the Star of his mercy, to proceed along his way, in order to find him and be flooded with the great light and true joy that he brought to this world. Amen.  Source
For more Quick Takes, visit This Ain't the Lyceum!