The Darjeeling Limited is a Wes Anderson film, and as such, is…well, a Wes Anderson film. Distinctive framing, quick, sweeping camera motions towards and away from characters, mannered acting styles featuring an often distant affect and a proclamatory style of speech, and of course, folks doing their thing to twangy music in the soundtrack. But this one is different because it's not set in a pastel-colored Wes Anderson hothouse, completely under his control – our characters are wandering through India, a setting not under anyone's control.
To some, it's their least favorite Anderson movie. I woke up this morning still thinking about it, so perhaps it might be my favorite.
It's the story of three adult brothers, reunited for the first time since their father's funeral a year before. Francis, played with a bandaged head and face by Owen Wilson has gotten them to India for, as he initially tells them, a spiritual journey. There's more to it, of course – it's not too much of a spoiler to reveal that his real purpose is to bring the three sons to their mother, who's joined a Catholic convent high in the Himalayas and who, as they keep saying throughout the film, didn't come to their father's funeral.
I was quite taken with this film, and not only because of the wonderful, rich landscape of people, places and colors, and not only because I (for once) like everyone in it, but because the theme – of adult children making sense of their lives both as adults and as children – resonates with me from both sides.
The brothers begin the journey a mess, individually and as a group. They are self-medicating, bickering and focused on problems and sorrows – one is endlessly, effortlessly controlling, another is fixated on women in his past and in his present, but as objects, and the third is struggling with the loss of his father and his own impending fatherhood. This "spiritual journey" is designed and planned by Francis's assistant, from beginning to end, setting the spoiled man children on a route outlined by a daily laminated schedule, all with boxes to tick off and sights to see that will supposedly provide a mild frisson of soul-tickling, that might, in the end, reveal the answer to a burning question, but a self-justifying one that safely lays blame for life's sorrows and puzzles in someone else's lap.
Of course, the journey is derailed, and it is only then that it actually does become a real spiritual journey – even if they don't recognize it as such, even as these strangers in a strange land lose control, are tossed into wilderness and encounter death. They get closer, seem to recognize hints, but still trudge on, essentially clueless, dragging their heavy baggage behind them.
And yes, the symbolism and metaphors are obvious here. The train, the journey, the baggage that slows them down, that distracts, the baggage that is emblematic of their wealth and privilege (It's Luis Vitton), the baggage that must be tossed in order to get on with the journey, and even the wounds – the wounds that must be revealed and acknowledged as self-inflicted in order to even begin to heal – all easy to read, but, in context, no less rewarding for it.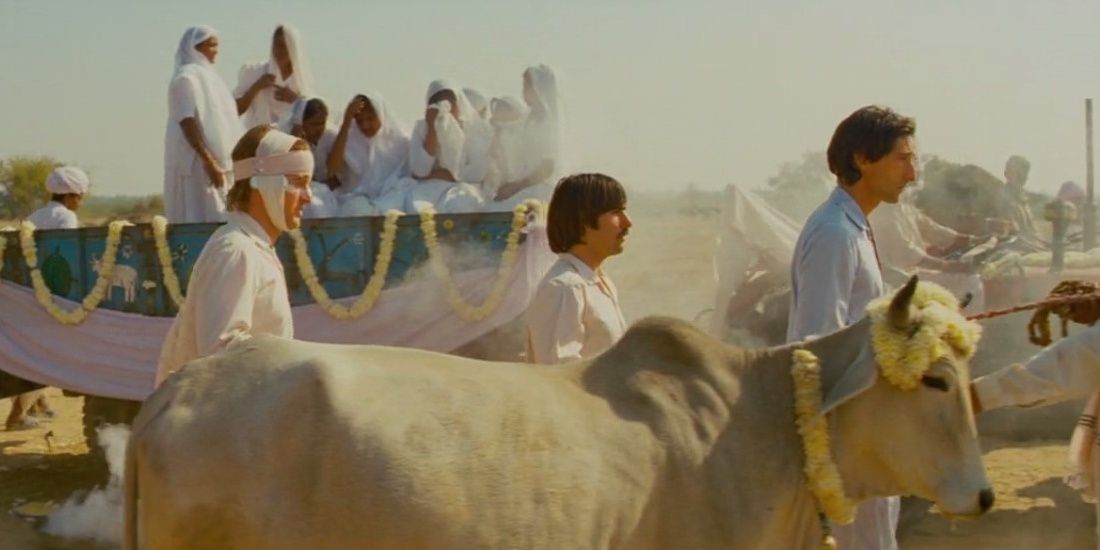 And now, let's talk about the end of the film. So if you've never seen it and plan to, and don't want to be spoiled, perhaps stop reading. It's not that there's a startling twist – it's that you just might want take it as it comes in a first viewing.
So yes, they reach their mother, rethinking a decision to abandon the journey. She's Patricia, played by Anjelica Huston, there in this convent, not in habit, but wearing a cross, so perhaps serving as a lay helper of some sort. We don't know. It doesn't matter.
She's also carting around a biography of Thomas Jefferson. As one does in the Himalayas.
As I watched these scenes, I responded very strongly to this character and what she said to her sons. She greets them warmly, warns them of a threatening tiger in the locality, and also reminds them that she'd told them not to come, and she didn't know why they had. What did they want from her?
What they want is an answer. Why did she not go to their father's funeral? Which, it seems, is a question representing others – why had she left their lives? Perhaps…why had she and was she not available to help them? Perhaps there were other, long-simmering issues and questions. Perhaps she had always been a rather unavailable parent. We don't know.
Well, why didn't she come to their father's funeral? Because, she simply says, she didn't want to. Why is she here? Because these people need her. What about us?
Even at this point, so late in the game, these guys are blind to their own faults. They are all about condemning their mother for skipping their dad's funeral when, as we've learned a bit earlier, they missed it, too – and not out of any sense of conviction or purpose either – but because they were stupid, impulsive, deluded and obsessed with self-serving empty gestures.
I asked my son this morning what he thought of this character. What was she trying to communicate? Well, he said, she was trying to tell these grown-up men that the past was over and they needed to move on and not depend on her to answer their questions or fix their problems. Was she a bad mother? I asked. Maybe not a good mother, he said, but not a bad one. That's what they needed to hear.
I was interested because that had been my reaction, but when I read around this morning in reviews and analysis of the film, there was a pretty universal take that Patricia was at fault for obviously abandoning her responsibilities and her life, and her sons were right to blame her for the helplessness and haplessness they were feeling.
Well, that obviously wasn't my take at all. She's not a saint – none of us are – she's not perfect – none of us are – but nothing she tells these men is false, either.
Listen. I'm sorry we lost your father. We'll never get over it, but it's okay. There are greater forces at work. Yes, the past happened. But it's over, isn't it?
Not for us one of the sons replies.
Well, she says, perhaps we can understand each other better without words.
And what follows is a breathtaking montage in which the camera swings around to each of their four faces, subtly expressive of the unique pain each one feels, and then, beautifully, to a rocking, steadily moving train, each car containing characters we've met or heard about during the course of the film – the orphans there on the mountaintop, the female train attendant seduced by one of the brothers, her boyfriend, the assistant who'd been planning the brothers' journey, the boys who were rescued by the brothers in a rushing river, lighting a candle to the image of the boy who didn't make it…and finally Bill Murray, "the businessman" who'd missed the train in the very first scene, and is now stretched out in the last car, glancing back and what awaits in the shadows – a tiger.
She leaves her sons, and as she closes the door, she says, To be continued.
And it will be, of course, even though, not surprisingly, the next day she is gone. But she did, mind you, leave them breakfast.
Now, here's a detail. If you were paying very, very close attention to these scenes, you'd notice it. I, of course, not being a very observant person, didn't. But I perused the screenplay a bit this morning, surprised at the differences – for example, in the screenplay, Patricia is much more remorseful and emotional than she is in the final cut.
And there's something else.
It's mentioned explicitly in the screenplay, and, as I mentioned if you looked at these sons and their mother as they hashed things out in their room that night, you'd notice that each of them bears a small cross of ash on the forehead.
Yes, this confrontation takes place on Ash Wednesday. A day of admitting sins, repenting and remembering the reality of death – you are dust.
To be continued.
As adult children who have adult children, this is where we find ourselves. Rocking on this crowded train, through a strange, beautiful world, tigers lurking in the shadows. We plan, we make mistakes, we stay too long, we leave too soon, we love, we hurt, we try to explain.
It's hard to understand. Hard to live with.
Maybe we can express ourselves more fully if we don't say it in words.
The parent, the child, the human being moving through life on this earth and wondering why, going to great lengths to find a scapegoat and a savior, finally finds some peace, not in words, but in presence – a fleeting presence who assures, to be continued and then is gone from our sight, leaving a meal behind. We grab a bite, we take our wild, wordless rituals into the wilderness, and then set off again, strengthened by the encounter, the meal and the ritual to just let that useless baggage go as we leap back upon the moving train.