—1 —
It's the memorial of St. Francis Xavier Cabrini.
Such an amazing woman. Do you feel tired? Read her story.
This is one of the best online – it's thorough, with lots of good quotes from her, and a good image that lays out the scope of her travels:
Here's an excerpt from the chapter on St. Frances Cabrini from my Loyola Kids' Book of Saints. To reiterate – it's an excerpt. There's more at the beginning at the end to relate her story to a younger child's life. It's in a section called, "Saints are People who Travel Far From Home," along with St. Boniface, St. Peter Claver, St. Francis Xavier and St. Francis Solano.
Quick change of direction.
One of the random Twitter accounts I enjoy following is called Wrath of Gnon. I don't really know to what that's a reference, but the focus of the feed seems to be how traditional architecture and town planning led to enduringly liveable – and beautiful – situations for more people, rather than just the privileged few. I appreciate that.
Here's the feed. Here's the Tumblr, and a relevant quote posted in the latter:
"The buildings our predecessors constructed paid homage to history in their design, including elegant solutions to age-old problems posed by the cycles of weather and light, and they paid respect to the future in the sheer expectation that they would endure through the lifetimes of the people who built them. They therefore embodied a sense of chronological connectivity, one of the fundamental patterns of the universe: an understanding that time is a defining dimension of existence—particularly the existence of living things, such as human beings, who miraculously pass into life and then inevitably pass out of it."
And discovered via this account, a French museum I wish I'd known about when we were there in 2012 – and we even spent a lot of time at the Hôtel des Invalides:
The Musée des Plans-Reliefs is a museum of military models located within the Hôtel des Invalides in the 7th arrondissement of Paris, France.

The construction of models dates to 1668 when François-Michel le Tellier, Marquis de Louvois and minister of war to Louis XIV, began a collection of three-dimensional models of fortified cities for military purposes, known as 'plans-relief'. The models gave particular attention to the city fortifications and topographic features such as hills and harbors. In 1700 Louis XIV installed the collection in the Louvre. Initially the models were constructed in the field, by military engineers, but in 1743 two central workshops were established for their construction in Béthune and Lille. A large number of models were built during and after the War of the Austrian Succession (1741–1748) to represent newly captured sites. The collection was updated in 1754, but then fell into some disuse; the final models built under the Ancien Régime were those of Saint-Omer (1758) and the fort Saint-Philippe aux Baléares (1759).
As Stephanie Soule, Librarian/Archivist at the U.S. Catholic Special Collection at the University of Dayton, describes it, the 128-page My Military Missal was compact enough to be tucked into a rucksack or a pocket. "It has several unique features designed for its use by the armed forces," Soule wrote in 2016, after she had discovered it in the stacks of the U.S. Catholic Special Collection. "First, on the back cover, the missal displays printed rosary beads. The beads are represented by raised bumps on the back of the cover, enabling a person to feel or trace their way along the Rosary and keep track of their progress through the prayer, similar to how he or she would with a string of rosary beads."

Perhaps most intriguingly, the missal offered a "Mass-Clock" and "Mass-Clock-Prayer" for soldiers unable to attend Mass on Sunday. All one had to do was look at the "Mass-Clock," which displayed all the time zones of the world, find a time zone where morning Masses were being offered, and then recite the "Mass-Clock-Prayer" to unite one's prayers with the prayers of those Masses: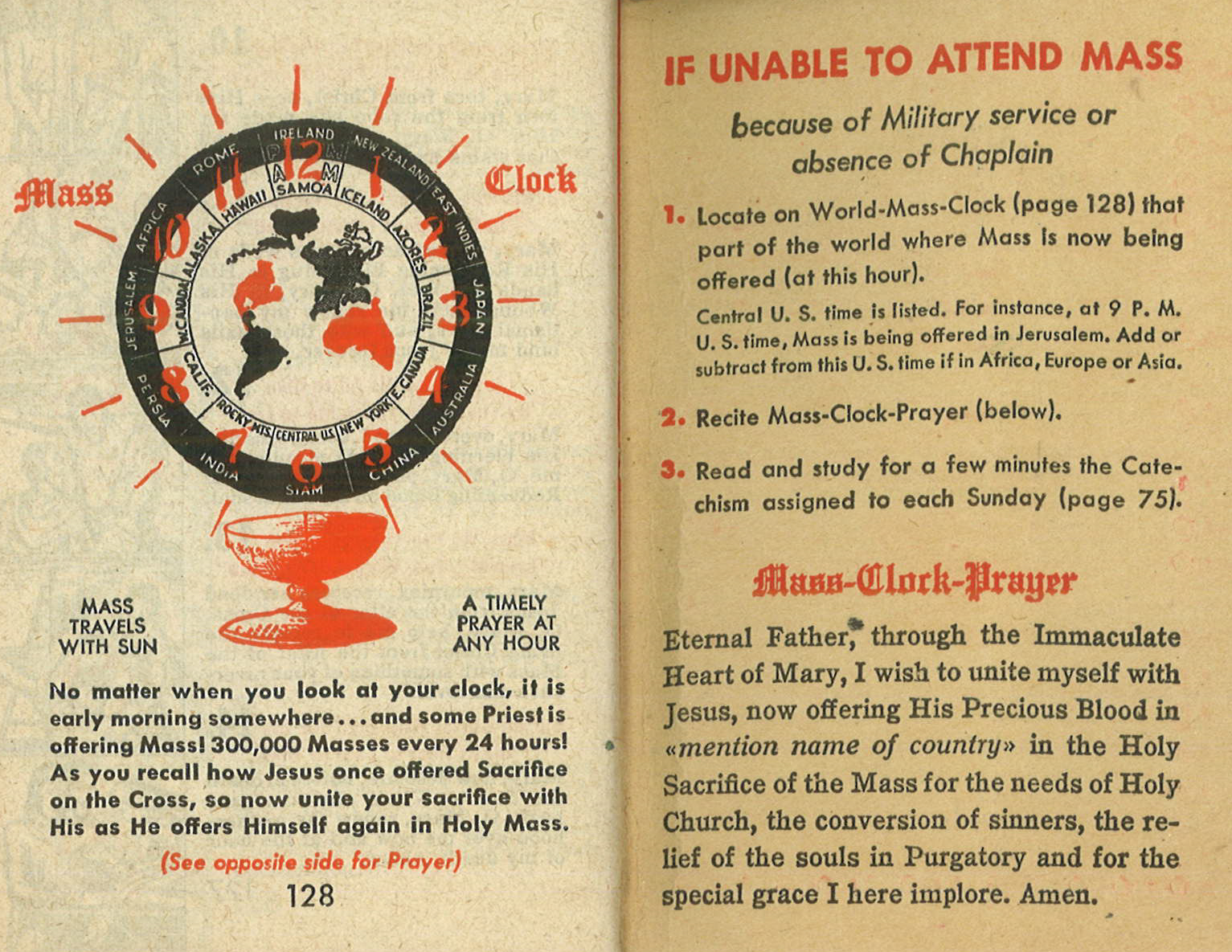 Everybody's super busy hopping off the old and into the new, and inviting you and me along for the ride. Right? I've got a better idea – ditch as much of it as you can, period, and live life face-to-face.
(Because I won't be "moving to" Parler or Gab or MeWe or whatever the heck so many others are doing. You may notice that I use other social media platforms mostly for publicity (such as it is) and hardly anything else. I don't "discuss" on Twitter or Facebook and I don't microblog on Instagram. If they go away tomorrow, we will be, for the most part, better off.)
Hard, when so many are schooling and working from home and tech is so much a part of that. But given that reality – when it comes to social life and even discussion – maybe the intensity of working-and-schooling-through-Zoom will be the kick we need to take a break. From Jessica Hooten Wilson:
The story of how technology deforms the human person into a sleepwalker is not new, though it is more pervasive and intense than ever. In the 1850s, Henry David Thoreau ventured off into the woods to "live deliberately," fearful that a life in civilization meant a life of sleepwalking. Despite the dull content of most of Walden, Thoreau's admonishment to the world to "Wake up!" is worth repeating. "Only one in a million is awake enough for effective intellectual exertion," Thoreau laments, "only one in a hundred million is awake to a poetic or divine life. To be awake is to be alive. I have never yet met a man who was quite awake." He is speaking figuratively about our sleep and wakefulness.

As an American in the nineteenth century, Thoreau feared the trains which enslaved people to their schedules, the news which had become "as indispensable as breakfast," and Americans' unrelenting penchant for entertainment. He compared his contemporaries to Cyclops from The Odyssey, residing in "the dark unfathomed mammoth cave of this world" and possessing "but the rudiment of an eye." In another cave analogy from Plato, we are those who insist on watching the shadows on the wall rather than walk out into the light and see the true forms of things:

When we are unhurried and wise, we perceive that only great and worthy things have any permanent and absolute existence, that petty fears and petty pleasures are but the shadow of the reality. This is always exhilarating and sublime. By closing the eyes and slumbering, and consenting to be deceived by shows, men establish and confirm their daily life of routine and habit everywhere, which still is built on purely illusory foundations.

Although Thoreau drew from his nineteenth-century context, he names concerns that fit our twenty-first century reality.

We are still living like sleepwalkers being deceived by shadows. Even more so now, we find the news indispensable to our day and read it before we even rise from bed. We cannot go a moment without being entertained or sitting still with our thoughts. Our sleepwalking state is not much different than death-in-life. In The Moviegoer, Binx Bolling observes that everyone is dead, dead, dead. He begins talking with people only to find that he knows what they are going to say before they say it, that the conversation is trite, repetitive, insubstantial.

I have overhead many such conversations at coffee shops and fellowship gatherings. None of us want to just go through the motions, yet we perpetuate habits and practices that allow for nothing else. The phone calls to us in ways that should show us who is in control, and we should fear its ability to deform us into sleepwalkers.
Finally – some listening for you. Earlier this week we took a drive up the Interstate to a state park we'd never explored before. Post about that here. At one stop, this came on the classical station, and Kid #5 didn't want to get out of the car until the movement was over – mesmerized. So here's the third movement of Philip Glass's 3rd Piano Concerto:
For more Quick Takes, visit This Ain't the Lyceum!