I've reached that point.
That point at which a zillion posts and essays are swirling about my head, that point at which I read dozens of posts and statuses every day that send me raging and wanting to take over the airwaves and Set. Everyone. Straight.
So in order to keep myself sane, no matter how few of you fellow weirdos are reading, I'll start posting more. And posting shorter, so I don't sit here for five hours crafting ridiculously long, convoluted posts that frustrate me and bore the hell out of you.
So, first.
I read a status the other day – I won't be more specific than that – from someone I sort of know – I won't be more specific than that – who was lamenting possible post-election circumstances. In short, this person is, shall we say, against Trump, was fearing a Trump victory and was grieving in advance and asking their friends and followers: How will I be able to cope if He wins?
No, the capitalization isn't accidental. I mean – this person didn't capitalize it, but I certainly am, and absolutely on purpose.
There was real distress there. And the responses indicated real distress. Like, I don't know, I hate to think about it, I don't know what I'll do, this can't be real…..
I'm not going to say that it doesn't matter. It does. I'm in no way distant from politics 2020. Remember, I'm the daughter of an extremely political household. My parents were deeply interested and engaged and my father was a professor of political science. So yeah – it matters. I'm spending a ridiculous amount of time on blogs and comments sections following this whole strange and frankly fascinating course of events.
And I certainly have my desired outcomes, outcomes that I believe will make life in this country generally better for more people and more consistent with the good and the true.
But if my desired outcome doesn't come to pass? Well…let's just say that I'm 60 years old, I've been a voter for 42 years, so no, my "desired outcome" hasn't come to pass 100% of the time, but guess what?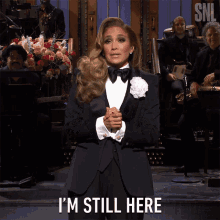 But…. if your okay-ness and mental health is dependent on an election outcome?
Find a friend who feels differently. Talk it out with a therapist. Go to church, for God's sake.
The real God.
I think there is a lot to say about this level of emotional involvement in the identity of the head of the executive branch of the United States government. I wrote about it here back in 2016, and it is just too bad that we are still having the same conversation, but probably not surprising at all.
Because when you have either driven God out of your life or made God all about Your Feelz and you have no real understanding of civics, yeah. This will probably happen.
I'll just end with this, before I go fetch Kid #5 from Friday Night Lights.
Say no to idolatry.