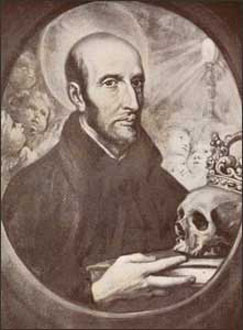 To conclude in a few words what remains to be said on this subject, I believe it will be very useful to keep ourselves in humility with regard to our neighbour, to reflect that the devil lays snares for us every instant to make us consent to pride, and that we shall undoubtedly fall into these snares, if we are not extremely on our guard.

Thus, every time we treat with our neighbour, we should observe our- selves carefully ; have as much respect for him, whoever he be, as if he were our master or superior; listen to him when he speaks, as if God was speaking by his mouth ; value the good advice and wise instructions which he gives us; and, above all, take care not to think ourselves better than he, for fear of deceiving ourselves. For, besides being very bad judges of what we see, we allow ourselves frequently to be deceived by appearances, either by our want of discrimination, or by the reserve of those with whom we treat.

Thus the surest means of not allowing ourselves to be mistaken in the judgments which we pass on our neighbour, is to believe always that we may be deceived, to bless God for the good which we see in our brethren, ever to take the most favourable view of doubtful things, not to condemn persons who seem to us to be wicked, since our duty is to judge ourselves only ; on the contrary, charitably to excuse them, and consider that he whom we see do a bad action has before done numberless good ones ; that if we compare ourselves to him, we shall have a greater subject for humility in our own faults than of scandal in his ; that he has perhaps sinned through ignorance, or that be has already repented of his sin, and is now in a state of grace ; in fine, that his fall will perhaps procure for him in heaven a higher degree of glory, by the great penance which he has done for it.
I am a bit confused about his feastday. It is definitely such on the Extraordinary Form calendar. On the post-V2 calendar, it's September 30 – also the feastday of St. Jerome. But folks all over Twitter are wishing each other a happy feastday of St. Francis Borgia (did you miss it? It's not #trending? No? Oh.) …even Cardinal Cupich! Well, that clinches it. October 10 it is.
Well, and the Franciscan Saint o the Day site marks today as his day, so here we go.
Francis Borgia was born in Spain in 1510 into the wealthy and powerful Borgia family. The Borgia's were infamous for their ambition, corruption, and dishonesty, even assassinating those who stood in their way. Francis's family members, especially his uncle, were the subject of Machiavelli's work "The Prince", becoming immortalized as the archetype of evil cunning and manipulation. Francis, however, was quite different. He showed great humility as a child, and wanted to become a monk. Family affairs did not allow this, and Francis was instead married a Portuguese noble woman, had eight children, and was appointed Duke of Gandía. After his wife's death, Francis became a Jesuit, and eventually became the third Superior General of the Society of Jesus. He helped expand the Jesuits, founded dozens of colleges, and was spiritual advisor to kings and queens.
More detail, from Bert Ghezzi:
St. Francis Borgia, a relative of Pope Alexander VI, King Ferdinand of Aragon, and Emperor Charles V, joined Spain's imperial court at age eighteen. The next year he married Eleanor de Castro, who bore him eight children. In 1539, shortly after experiencing a religious conversion, Francis left the court but continued in public life as viceroy of Catalonia. At this time under the influence of Peter of Alcántara and Peter Favre, he progressed in prayer and the spiritual life.

In 1543, Francis succeeded his father as duke of Gandia, but when his wife died three years later he decided to become a Jesuit. He provided for his children and joined the society in 1550. While he preferred a quiet life of solitude, the Jesuits felt differently and promoted him so that he could use his great administrative talents for the church. In 1554, St. Ignatius appointed Francis commissary for Spain, where he founded twelve colleges and a novitiate. The Jesuits chose Francis as their general in 1565. His consolidation of the society and expansion of its ministry has caused him to be recognized as the second founder of the order. He established disciplined novitiates in every Jesuit province, writing regulations and books of spiritual instruction for them.

Francis created a new Jesuit base in Poland and strengthened the community's work in Germany and France. Between 1566 and 1572 he launched the Jesuit mission to Spanish colonies in Florida, Mexico, and Peru.
Below, from the Internet Archive, is a translation of his "Spiritual Exercises".
You'll notice a theme. It's humility. Abject humility, you might say.
Remember, St. Francis Borgia says, at every step of the day, how much God has given you and how you've wasted it.
You ought, O devout soul, to make yourself as familiar as you possibly can with these exercises, in order that your actions, which are sterile and imperfect in themselves, may become holy and salutary, and that they may merit to be presented to God as an agreeable sacrifice.

You should commence by the ordinary actions of each day, which are common to all ; and I can assure you that if you are faithful to this practice, besides acquiring, by degrees, a great facility for acting boldly in all the other circumstances of life, you will find in it wondrous sweetness and consolation.

Now, this practice consists in having three motives in each action that you perform:

1st, to humble yourself before God ;

2nd, to thank Him for His graces ;

3rd, to ask Him for those of which you have need.

The following is the rule you ought to make use of in the particular actions of the day.

While dressing in the morning.

1. Enter into a profound sentiment of confusion, in considering that you are well clothed, and that Jesus Christ was fastened naked to a cross for love of you.

2. Thank Him for having assumed our nature, although He knew at the time how ungrateful we should be for this favour; and also for having given us clothes to cover us, although we have so often despised the nuptial robe of grace, with which He clothed us. While dressing yourself, you are performing one of the works of mercy, which is to clothe the naked: implore Him to accept this action, in consideration of the garment of ignominy with which He was covered in the palace of Herod.

MORE
So negative!
Well, remember to whom Francis Borgia is writing. The people who would be reading his spiritual exercises would be, first of all, literate, with access to printed books – which means they were either from wealthy and privileged backgrounds or striving for such. Laity would be enjoying a comfortable life and be living in a world oriented towards maintaining and growing that comfort and wealth. Even those with serious spiritual aspirations dwelt in relative ease and spent their days conducting the wealth- and position-building business of the world, and of course – as the Borgia family itself demonstrates in a stupendously vivid way.
In that context, the challenge to conform one's life to Christ – the call of every Christian – might just require hourly reminders of the gap between the appearance that surrounds you and the reality of what eternal life requires.
Again I say to you, it is easier for a camel to pass through the eye of a needle than for one who is rich to enter the kingdom of God.
We are not 17th century Spanish aristocrats, but the lives of most of us in developed nations would nonetheless stun those living at that culture's highest levels with our own ease and comfort.
So despite the tone of abject humility that might be off-putting, are we really so different from Francis Borgia's privileged readers? Are we not tempted, to live as though salvation is about how the world views and treats us and to use the gifts God has given us, starting with life itself, with that end in mind, rather than eternal life?
Perhaps it's not a bad thing to be reminded of our limitations. To be reminded, as the passage that begins this post points out, that our understanding of others is so blinkered and shallow that it's impossible and wrong for us to judge them.
To be reminded that the flattery of the world – whether that come in the form of servile courtiers, land bequests, paychecks and promotions, the praise of co-workers or even the affection of friends and family, and definitely social media applause – at the very least, means nothing, and at worst, distracts us from the reality of who we are:
In a word, if you wish not to flatter yourself, you will find nothing within you which will not be a cause for humility , no, not even your good works ; since, by considering the inclination you have to evil, and the difficulty you feel in doing good, you will be surprised that a sinner like yourself can do anything agreeable to God. For a good action is the fruit of the grace of Jesus Christ, and not of nature or of sin ; and the little good you do comes not from yourself, but from God, who begins and finishes it in you.