The great film composer, Ennio Morricone, has died at the age of 91. 
Just a little bit over a year ago – June 29, 2019, we saw Morricone's last public concert in Lucca, Italy. The story of that crazy journey is here: Il buono Il brutto Il cattivo
Over the past months, I've been stoic about travel restrictions and plans, firmly reminding myself that this is definitely a First World Problem, actually not a "problem" at all, a massive point of privilege, and probably good for me.
But this morning, hearing about Morricone's death, looking over the photos from our trip, first to Lucca, then to the location site – as well as thinking about those three weeks in Spain (and a little Italy) in general, have made me sigh a little. Ah well – girds loins, chin up, reminds self again of privilege. 
Anyway – it was a great experience  – you can read more detail here, but here's an excerpt.
****
What I stumbled upon was the fact that the 90-year old maestro was embarking upon his "last tour," conducting concerts in Spain and Italy during the spring and summer. Unfortunately, the Spain concerts would be in May, but – well, look at this – one of them – in fact – THE LAST  – (as advertised) concert would be in Lucca, Italy – on a date during which we'd be in Europe.
*Checks RyanAir fares from Madrid to Pisa. Cheap. Struggles with guilt. Thinks – well, we'd be paying for housing *somewhere* – why not in Italy, instead of Spain for a couple of nights?*
Thinks – as per usual – about death and mortality – and pushes – BUY.
So there's your backstory, people. Your backstory as to how we went to Ennio Morricone's supposed last concert on Saturday, June 29 in Lucca, Italy – and then a couple of days later, were wandering around the Sad Hill Cemetery – the famed round cemetery from the final scene The Good, The Bad and the Ugly. 
The concert was great. Thousands of people, enraptured with the music, the fantastic, theatrical sopranos giving their super-dramatic all on pieces like The Ecstasy of Gold  – just Italians loving other Italians doing music. The best.
And once again – as I pointed out in that post from last year – I'm grateful for my kids for many reasons – first of all simply because they are – but also because of what I learn through their interests. My world is so much bigger than it would be if I were left to my own, narrow devices, perspective and interests.
(Go to Instagram for video of the concert)
And yeah, one more – albeit relatively minor – reason to pile on the hot mess of American mainstream media. From the ridiculous WaPo: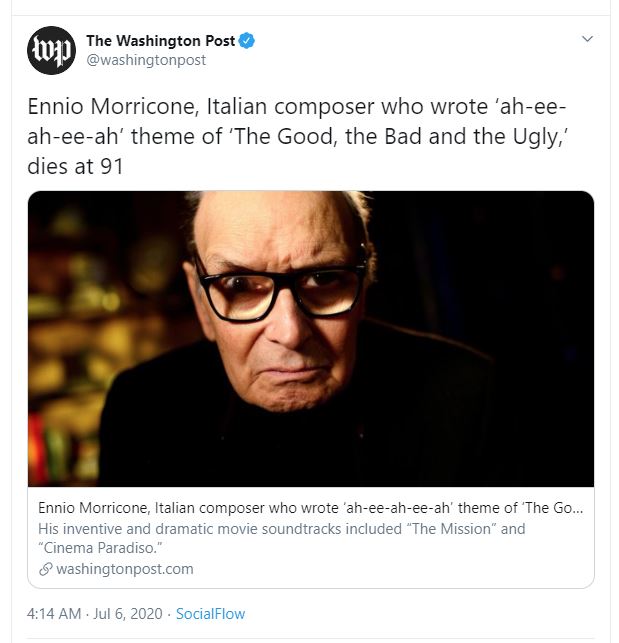 As I say once a day (at least) ..I hate these people. 
A collection of on-point responses:
Me respectful: 'Ennio Morricone, you know the man who successfully and innovatively blurred the lines between classical, different folk traditions, psychedelia and the avant garde?'

professional journalist paid to write:'Yeah the guy who did the wacky ah-ee-ah-ee-ah bit' https://t.co/rrLPwO9bQQ

— Rd L (@MrMutantes) July 6, 2020