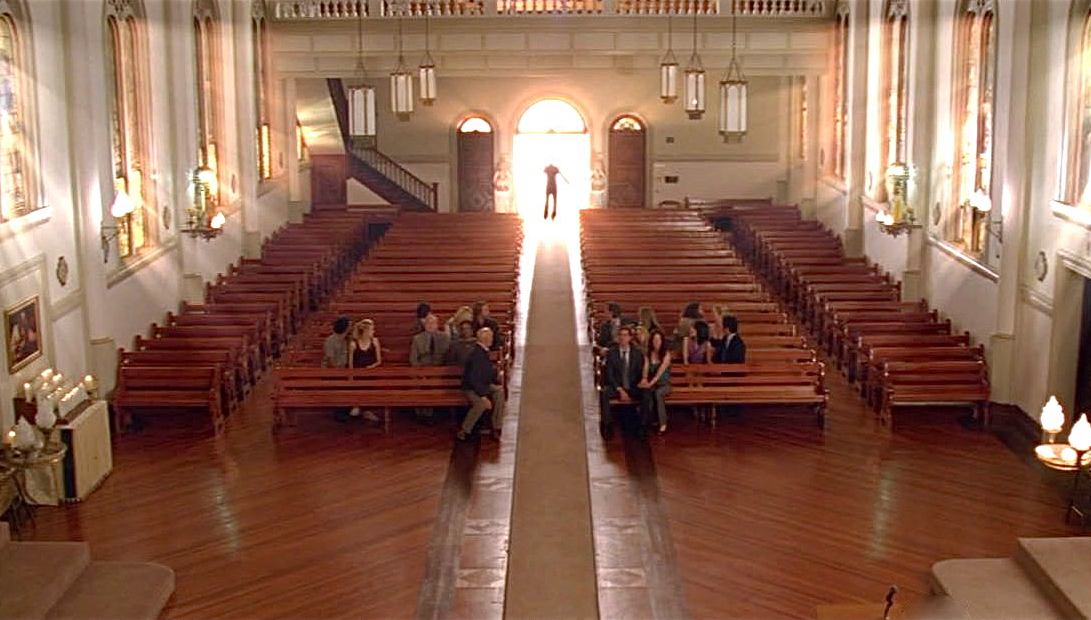 Yeah, super important. I know.
Anyway, today's the 10th anniversary of the airing of the Lost finale.
Here's an interesting oral history-type article. This quote from showrunner Damon Lindelhof might interest you:
 I feel that, ultimately, the fundamental question that I'm most interested in exploring is whether there's a purpose behind suffering and, more importantly, do you have to suffer to achieve a level of grace? I think that when you're ending a television show, the longer it goes – the longer the characters suffer – the more satisfying their grace has to be.
More from me on Lost: 
On the re-watch I did a couple of years ago, in which I introduced sons #4 & 5 to the show:
This summarizes what I think about Lost – and why I think it ultimately had hooks and power:
Lost is us, right here in this moment, wherever we are. Here we are, dropped on an island.  There's weird, undefinable, unending mystery churning around us. All kinds of crazy things are happening, and who knows why? There seems to be a purpose, and there seems to be the possibility of great goodness, but there's also evil. When we stop and listen to each other's stories, we find that we are connected to each other in surprising ways. And so we're here, brought here to this moment by this strange combination of the flow of life, chance, what's been done to us, and our own choices. But here we are, together. What are we going to do about it? How are we going to live now?

The flashbacks that formed an important part of the first three seasons' structure offer another essential aspect: how our pasts affect us. Which, of course, is a huge part of the Lost story, as the primary characters are brought to this place where, ironically, they must deal with their pasts – even though they're in situations in which no one need know about those pasts at all. If Lost is about anything it's about that:

Accepting the role that the pain in our pasts have in shaping us, but then refusing to be defined by that  pain– and moving on.
There have been other great – and better – shows. There are more popular shows (maybe). But Lost was an absolutely unique mix: throwing out Big Issues, close character work and Big Adventure in one, heady, crazy mix – on a regular, broadcast network – 25 episodes per season. It was fun, it was thought-provoking, it was aggravating, it was a conversation-starter, and, let repeat myself – it was fun. 
Early on, I warned my 16-year old, "Now don't go online and look up Lost stuff, because it will just spoil it for you. You don't want to know what happens before it does." And he hasn't although he's said it's been tempting. And then he said rather wistfully, "I kind of wish I were watching it when it was first on – it would be fun to go online and talk about it and read about what people think about it as they're watching it."

Yes. Yes it would be. Yes  –  it was…..
Honestly. This gif makes me choke up. Every. Single. Time. 
As well as the music. Masterful. Michael Giacchino…thank you.
It's incredibly difficult to come up with a half hour or so of original music on demand, week after week like that, which is probably why so many TV "composers" these days forgo melodies and fill their scores with long, ambient tones, usually played on a synthesizer.  It's certainly faster and cheaper.  Giacchino's music for Lost was unusual in that it was spare, but rooted in strong melodies and played with a live orchestra.  It was actually one of the very few remaining TV programs to use real musicians. 
And then my take on the finale, 10 years ago…today.  I hadn't watched much of the previous two seasons. Husband dying and all. But I did watch the finale, and so my take was probably not what it might have been if I'd actually kept up with the show. Lots of Flannery O'Connor, you'll not be surprised to see. Anyway:
So I liked it for that reason – in that the fundamental themes were there and consistent – that (and the creators have said this) in community we find reconciliation and redemption. We help each other toward that end.  I have to admit, though, I found the gathering in church a little bit lacking in imagination, and even formulaic, but could I do better? Nope, probably not.

I don't think it was an epic fail, but I don't think it was a fantastic, rousing success either, by any means. The creators set the expectations bar way to high for this kind of ending to be totally satisfying.  I like Megan McArdle's thoughts, here. Except for her final take-away of the "tragic" nature of life, which just goes to show you the difference a worldview can make.

So there it is, in my limited view, and perhaps both O'Connor stories have more to say in relation to this episode that I thought when I first started writing this post:  We enter into this world of guilt and sorrow and often act in ways that only bring more.   Tossed together in this place that is an inexplicable mix of free will, determinism and nature , we're in community and we help each other discover reconciliation and redemption, and on we march, on we go, through fire, upward.

I mean, remember the title of this show? Lost? Not just the plane, not just the passengers as numbers, but as individuals.  Frequently throughout the series, I would think of how passengers are referred to in aviation. Souls.  155 souls on board, and so on.

When Jack enters the back room of the church, I laughed aloud because of the riot of global religious symbols – it was almost too PC for words, at first glance, but then I adapted because, of course, all world religions posit some sort of continued existence (in a way, even Buddhist nirvana or extinction is a continuation of existence for individual non-existence is a continuation of our true selves…etc…) but then, on further reflection…it doesn't wash in the end because what Lost was about – the particular shape of the necessity of redemption and reconciliation in order to be whole – is not anything you're going to find in all of those various world religions.  Christian hope is unique – shocking! – and it's not about a vague hopeful expectation of an afterlife, it's not about merging the particular into ultimate reality, it's not about a pleasure-centered reward for obedience to divine will and  like it or not and intentionally or not, it's that more specific Christian hope that Lost echoes, ever so faintly.

The most intriguing element to me was Ben, declining to enter, saying that he still had some things to work out.  Not ready.Not yet. That whole "genocide of the Dharma initiative" thing probably had something to do with that.
I'll just add….on the rewatch?  I loved the ending. Still stand by my historian-of-religion critique, but oh….take the first shot of the series and the last one, together? Oh…..