Got a couple of Covid/School related posts coming up. We'll start with this one.
(By the way, if you are interested in my education ramblings – here's a recent post on how what you're suffering through right now is not homeschooling. And here's a page with most of my substantive homeschooling posts linked. )
I think one of the aspects of this post-Covid life that I'm going to be watching with the most interest is the impact on education.
I want to get down some more general thoughts later on what this might reveal about the
purpose and shape of education (a lot of that is here anyway). 
But today, I want to focus, briefly, on college.
Our personal stake in the game is Son #4, who is now a rising sophomore at a smallish (not tiny) Catholic college out of state. Spring break was in early March, at which point he came home…at which point we thought they might go back after Easter. Well, that didn't happen, then a week after the original spring break, sensing the way the tides were moving, we sped up there and retrieved most of his belongings from his room. Sent his key back this week.
The college has been quite responsive and responsible in the aftermath. They offered refunds of prorated room and board funds and gave the students the choice to make their final grades pass/fail (determined individually, for each class, of course.)
At this point, they are proceeding with full confidence that they'll be open in the fall, at the regular time. They've rescheduled public, on-campus graduation for July, and have announced the resumption of on-campus visits for prospective students.
My son maintains some skepticism and is keeping his options open. We have plenty of choices locally, and quality studies in his major aren't dependent on that particular college.
We're not grieving or worried or upset. My son is very practical and takes life as it comes. He's the fourth one I've sent to college, and I've seen the circuitous paths that life has taken my kids – as well as me. There's no necessary "plan" that's been disrupted. Now, if he were in medical school or this were, say, last year when my daughter was at the end of her third year of law school, we might be a little more uptight about everything.
But even then…as Tony Soprano says..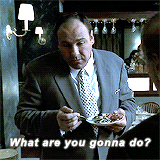 ****
And that's the question, it seems.
What are you going to do? 
The institutions are collapsing. The institutions are showing their weakness and are proving themselves largely inadequate to the moment. The mismatch between what American higher education provides and what human nature and 21st century life needs is ever the more clear.
You can't depend on them.
It's your education. Your mind. Your life on earth. Your formation. Your freedom to study, to read, to learn, to choose, to create and jigger and envision.
You can't do it alone. You need support and mentors and structures. But that doesn't mean you must depend on what you're told is the norm and the ideal to find it.
Maybe that's the outcome. Maybe that's the new landscape.
****
In the aftermath of Katrina, the New Orleans school system had to rebuild from scratch, and that rebuilding was centered around trying something radically new and different: making the whole system a charter system. I'm not sure how that's turned out, but I've been thinking about that notion quite a bit as I reflect on the future of education.
This is a chance to really rethink and redo and recreate.
No one is happy with higher education – except, perhaps, those who make big salaries from working in it. We have a sense that our American way of higher education is bloated, inefficient, exploitive of students – and those supporting them – and not attuned to either the highest needs and aspirations of human beings or the practical needs of life in the 21st century.
It's just broken and making us broke.
Here's what I'm hoping. I'm hoping that this experience, in which young people and their families are rethinking, reconsidering and adjusting, might lead to a healthy questioning of our assumptions about what higher education "should" look like.
The assumption that attending a four-year college after high school is the norm, is preferred and is ideal.
The assumption that these young adults and parents should pay tens of thousands of dollars for this experience.
The assumption that education is something that you pay for and are given by others in a classroom setting – rather than something you take hold of yourself.
What I mean by that is – there are numerous areas of study that absolutely require institutional support, tutoring, mentoring and peer relationships. But not all. "I wanted to go to college to study literature." Okay then. Open a book and study literature.  Find resources to help you and expand your understanding. If your college is shut down, but your locality isn't – find like-minded folks and get together and read and study a book together. Or learn some physics. Or study calculus.
You want to learn about stuff? Learn. 
The assumption that the ideal  of higher education is about a young person casting her net as widely as possible, exploring her options where ever they are, following her dreams, applying to ten colleges all around the country, making her decision, trucking across five states several times a year, spending tens of thousands of dollars in the process.
Maybe – just maybe  – the closure of colleges and the uncertainties of the future (as in – why send a kid across the country for college when there might be a new outbreak, and we have to do this all over again?) as well as financial restrictions – will encourage us to set our sights more simply, more locally. Maybe college isn't about some huge step of Breaking Free! and Following! Your! Dreams!
Maybe it can just be about figuring out your areas of interest, along with what areas of life and work might need your gifts right now, finding a way locally to develop that, staying at home for a bit longer, going to school locally, working, growing into adulthood in the context of a real, organic community – not the artificiality of a college campus far from home and family.
I think this might happen by necessity, really. Families are going to have less money to spend on college. Government is going to have less to hand out in loans and grants. Colleges themselves are going to constrict and collapse.
It's too bad, in a way. In a big way. There are certainly unique college experiences and areas of study and places to do that study and people with whom to study that are simply irreplaceable and wonderful. And necessary to do in an institutional setting.
Nonetheless, I can't help but think that if this results in a landscape in which young people embrace their responsibility for their own formation and education, shake off the assumption that "Going to college is the thing that will make me smarter and make me an adult" – and instead come to understand that what makes you smarter is what you decide to study and learn about, and there is nothing stopping you from doing that right now where you are and creating your own opportunities, alone and with others – and to seek out mentors and opportunities for learning locally, at less financial cost – that might be not the worst place to end up.
Maybe what I'm looking forward to is a reevaluation of the concept of college as an experience and a consideration of higher education as one component of an adult life. 
What are you gonna do?
What are you  gonna do?