Guys, I wrote this early this morning, but then had second thoughts – I wanted to make sure that what I get fixated on below wasn't a hoax of some sort. Conversation about the matter has continued all day on various platforms, requests for clarification have gone out to Always, and they haven't responded – and they do regularly and frequently respond to questions on social media. So I'm going with "Yeah, it's real. And they know it's stupid."
—1 —
It's the feast of St. Luke –  so….from the Loyola Kids Book of Catholic Signs and Symbols – the symbols of the evangelists:
No, no, that's not the issue…
Very quick and very dramatic change of topic.
You know that the current permutation of genders wars interests me a great deal. I've written about it here, here and here – and other places.
I probably could write about it every day. The volume of gender-related news that is currently flowing is staggering. And so – since it is indeed so much, it gets pushed to the side. "Until I have more time." Which never seems to happen.
But this is a short item that won't require much in-depth commentary. But it is instructive, so let's take a look.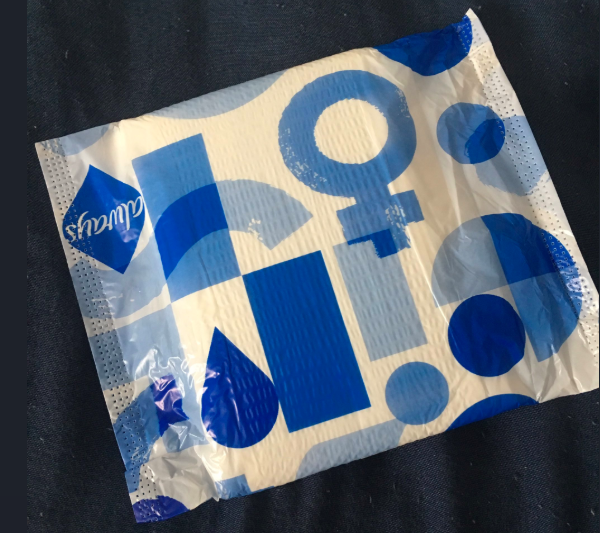 You know what Always is, right? It's a Proctor and Gamble brand of "feminine" sanitary products. Here's what happened this week:
A brand of feminine hygiene products bowed to pressure and will be removing overtly "feminine" symbols from its packaging.
Wut.
Checking into this via the links on the Reddit Gender Critical Subreddit (radical feminist, you won't agree with every opinion stated) and Mumsnet (same), it seems that a few trans-thinking people, mostly female-to-male/non-binary who still menstruate, were triggered made sad by the traditional female sign on the product wrappers.
This would not be newsworthy at all. At all. Especially since the numbers don't seem to be huge. There is clearly a little campaign going on, judging the from the number and timing of tweets, but it's not massive.
What makes it newsworthy is that Always – has given in.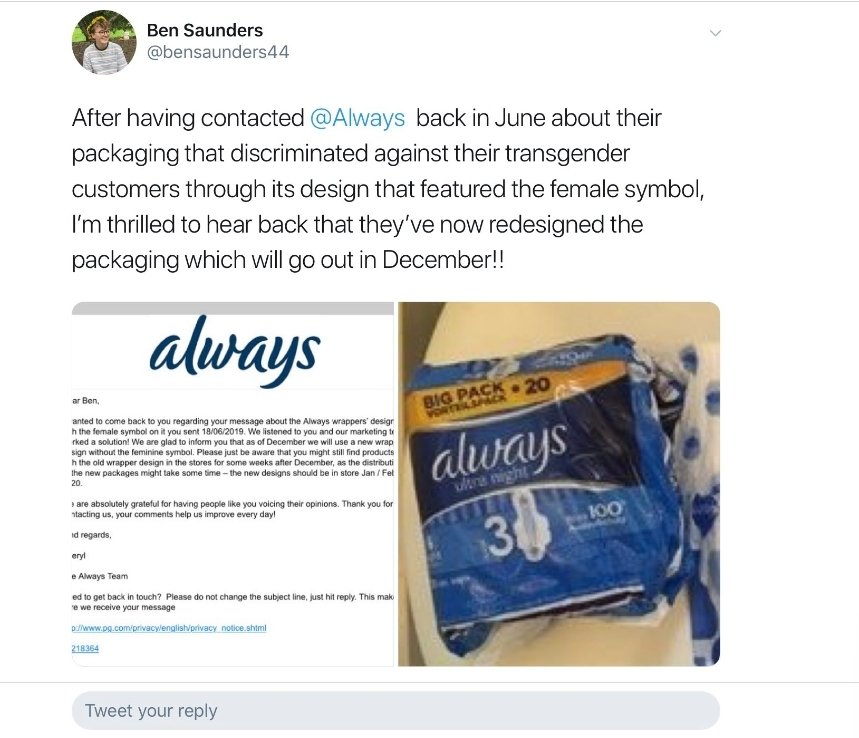 The vast majority of trans activism, which is unrelenting and obnoxious, comes from men. Natal, biological men. This was an exception – what I mean is that you don't see female-to-male individuals clamoring to get into male prisons, shelters or sporting categories. That's always men. Always. 
(See what I did there?)
The irony?
This week has been all about the periods. You might have noticed. Tomorrow is "National Period Day." Destygmatizing menstruation, activism directed at helping women, especially younger women and girls have access to products and spaces that help them deal with this element of their biology with dignity and acceptance – and privacy if they need and desire it. And hey! Today is World Menopause Day!
But anyway, it's deeply ironic that one of the biggest purveyors of menstruation-related hygiene products – menstruation which only women experience – has, this week, a week that their Twitter timeline has been FULL of Girl Power-type tweets – has given in to a few voices from women who, for whatever reason, are attempting to reject their biological, natal identity – and removing the symbol of "Girl Power" from their products – designed to be used by women for uniquely female needs.
Here's a hint: In the current culture, step one to helping "stop the drop in confidence that so many girls experience at puberty" just might be to affirm the biological reality of male and female and refuse to give him to female erasure.
Step two would be to assure all young women, everywhere, that the spaces in which they have to deal with this – restrooms in public places, especially schools  – are safe spaces for them.
Here's the irony. Saying "the" irony is of course a misstatement when talking about this issue, for the trans world is almost defined by Irony. Far more than one (Gender is over! But I feel like I'm another gender! Pay for my surgery!). Well, here's one of the ironies.
Over the past year, one of the lower-tier human rights issues that has popped here and there is what the focus of this National Period Day will be about – providing women and especially girls with those supplies and spaces they need for this biological function – providing supplies to women in prison, women at the border – providing, as Oxfam details here – spaces for teenage girls so that they can stay in school during their time:
Even before the earthquake, her school had a limited number of bathrooms. "Four [of six] were for students, and of those, one was for girls," she says. "The latrine had a place to throw used sanitary pads, but when it became full, there was no system to dispose of them."

Oxfam and local partners in Nepal are working to stop menstruation from interfering with girls' education. We are raising awareness about feminine hygiene, and ensuring there are girl-friendly latrines in schools. Last year, we worked with 72 schools to provide menstrual hygiene management faciliites. At Manikam Devi Higher Secondary School, we constructed eight latrines, four of which are for girls. 

We have also been supporting the installation of incinerators to destroy the pads, making bathrooms more hygienic and more inviting for use. "We no longer have to miss our classes because of our periods," reports Gurung. 

At Kirtipur Secondary School in Kathmandu, the construction of girl-friendly facilities has significantly increased the attendance of female students. Bhawana Lama, a 10th grade student at Kirtipur Secondary School, remembers, "Earlier there were pads thrown everywhere around the toilets."
The irony? This is the same cultural moment in which, across the West, trans activists – male in this case, for the most part – are strenuously advocating for both the right of self-identified "women" to be given access to women's spaces and/or gender-neutral public restroom spaces, including in schools. It's the latter solution that more and more schools are taking, presumably in order to just avoid lawsuits.
So yeah – at the same time the need for girls' private spaces is being recognized in the "third world" – First Worlders are blowing up those spaces so a few guys with LadeeFeelz won't be triggered.
And there are more steps: Step three would be to protect girls from an insane, oppressive over-sexualized culture in which women are primarily judged on appearance and sexual availability – a culture in which any young woman would dread to enter and some might begin to suspect, maybe guys have it better? Maybe I'd be safer if I said I was a guy? 
So sure, this is a small thing. It would be microscopic if it was only about the complaining – but the fact that this global corporation has apparently agreed to remove traditional female symbolism from a product for females and their uniquely female biological needs – is a danger sign. One of many we receive each day. Don't ignore it, and in whatever small way you have – don't give in.
All right, Switch those gears again. Sorry for the whiplash. This is my life. Think about saints and obscure aspects of Mexican Catholic history – then obsess about sucking-all-the-air-out-of-the-room trans activism – then what should we do for dinner  – then – the Pope did what? – then – did you practice piano yet? 
Anyway.
Tomorrow is the feast of the North American Martyrs. One of them – St. Isaac Jogues – is  in the Loyola Kids Book of Saints – under "Saints are People Who are Brave."  I've got the last page here for you. 
Are you in parish/school or diocesan ministry? Advent is coming! Consider these resources – for Advent 2019, a family devotional I wrote for Creative Communications
I just noticed that the digital version is available on Amazon – the whole thing, published. So if you'd like it for your own use in that format – go for it! 
Also this pamphlet on St. Nicholas, from Creative Communications as well:
And this 2020 daily devotional – useful (I hope) for anyone, but, as I understand it from the publisher, a popular choice for Catholic institutions to share with employees and volunteers. It goes from the beginning of Advent 2019 to the December 31, 2020. 
Note: None of those links go to Amazon. Also, these were each written for a stipend, paid and delivered, in some cases (the Nicholas pamphlet), years ago. No royalties come to me from their sales. I'm just happy to share them and hope they help. 

For more Quick Takes, visit This Ain't the Lyceum!