— 1 —
Greetings…not from Seville, finally!
Since last we met (if you only show up here on Fridays), we've been to Caceres, Trujillo, Guadalupe, Talavera de la Reine, Toledo, Chinchon and here tonight in Madrid….with a weird weekend trip coming up, then a couple more weird things and then home.
These trips are very good for making me a homebody…for a while.
For some accounts of what we've done and some photos, just click back to previous entries and check out Instagram as well.
— 2 —
My other news this week is that the Loyola Kids Book of Signs and Symbols was awarded first place in the "Children's Books" category from the Catholic Press Association: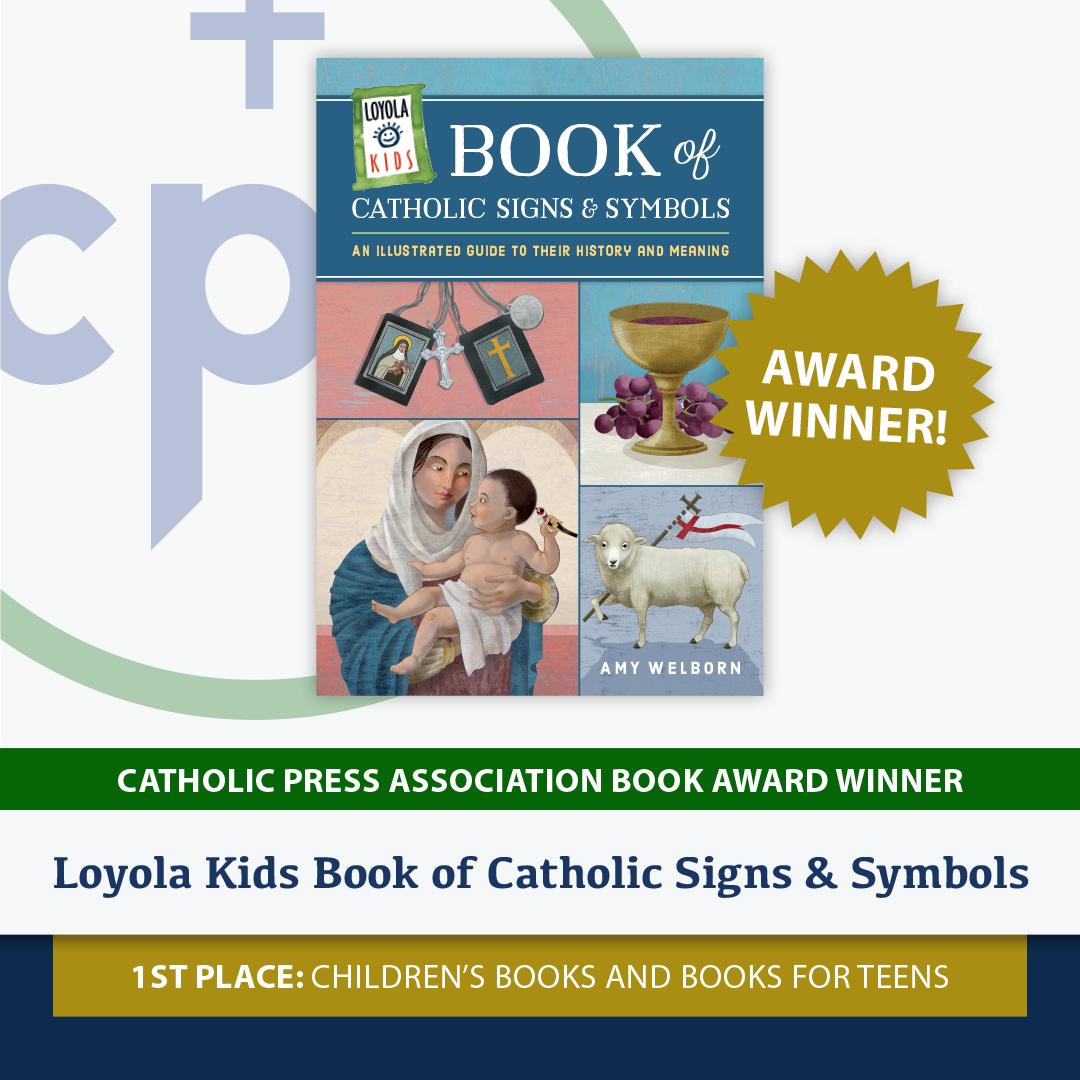 Many thanks to the great team at Loyola who designed, illustrated and edited this book of which I'm very proud!
— 3 —
Speaking of this book and speaking of today – the Solemnity of the Sacred Heart – here's the entry on that:
-4–
All right – some travel notes. We were in Toledo Tuesday evening, all day Wednesday and this morning, when we left – gawking at the views, as one does driving around the city in this amazing setting. We weren't the only ones, of course. The road was already crowded with tour buses of daytrippers stopped at the viewpoints – but it was time for us to go.
–5 —
First stop was to be Aranjuez, famed for a huge palace that was a summer home for Spanish monarchs. I was a little confused by the directions, traffic was heavy and I really don't care much about palaces anyway (we were in Paris for five weeks, and I had no interest in seeing Versailles…so we didn't), so….we just kept driving.
To Chinchon – an interesting little town that boasts a church with an Assumption painted by Goya (his brother was a priest there and he liked spending time there), a proud tradition of anise liqueur production, and a fascinating, medieval-looking central plaza that…is…used for bullfights. ! They were setting up bleachers for one as we wandered. That would be something, wouldn't it? It was incredibly windy up there, which was a relief considering the highs in Spain over these days is in the 100's…(seriously). I had thought we'd eat, but nothing really appealed to us except some of the local typical bakery goods, so we just wandered, went to the small local museum, saw the church and went on.
— 6 —
…have you heard of this? I'd learned about Don Justo a few years ago when we first visited Madrid. I wanted to get out there to see his work then, but time constraints and no car made it impossible that time. But not this time – we have a car, and it was on the way from Chinchon to our hotel outside Madrid.
Here's the story in his own words:
My name is Justo Gallego. I was born in Mejorada del Campo on September 20, 1925. When I was very young, I had a deep Christian faith and I wanted to devote myself to the Creator. For this reason, when I was 27 I entered the monastery of Santa Maria de la Huerta in the province of Soria. After eight years, I fell ill with tuberculosis and I was forced to leave the community for fear I might contaminate the others.

I came back to Mejorada devastated by this setback to my first attempt at a spiritual life. So I decided to build, on farmland belonging to my family, an offering to God. Little by little, the building was erected, spending my family inheritance to keep it going. There were never any construction plans or official permission. Everything is in my head. I am not an architect or a stonemason. I have never had any training in the building profession. My basic education was interrupted by the Civil War. I was inspired by books about cathedrals, castles and other religious buildings and they gave birth to my own work. But my principle source of illumination and inspiration has always been the Word of Christ. It is He who guides me and it is to Him that I offer my work, in gratitude for the life he has given me and in penitence for those who have not followed his path.

It has been almost fifty years since I devoted myself to building this cathedral and I still get up at three thirty in the morning to start my day. With the exception from time to time of assistants, I have done it all by myself, mostly using recycled building materials… and there is not set date for the end of this work. I content myself everyday offering to the Almighty the work He wishes me to do and it makes me happy to think of what I have already accomplished. And I will continue, till the end of my days, to keep working on the cathedral with my resources and donations from other.

Everything that is made in the name of God helps us to admire his reflected and eternal glory."
I'm thinking it's all any of us are called to do: use what's at hand to create something – simply a life – that reflects His love and glory. Right?
It was astonishing – far bigger than I'd expected. I also thought it would be out in a field somewhere, but no, it's right there in the middle of the town. It wasn't open when we went, but we were able to see enough, including inside, to get a good sense of it, be impressed and be humbled.
— 7 —

Couple more writing notes: The Absence of War is available again and check out this interview with Son #2 about his writing process. Here's his forthcoming book, available for pre-order. He also blogs every weekday about film.