Last year, I watched all of Amazon's award-winning and extravagantly-praised The Marvelous Mrs. Maisel. It didn't strike me as marvelous. Here's what I wrote:
I did watch all of The Marvelous Mrs. Maisel last week and I wouldn't recommend it. I had watched the pilot in the spring, found it annoying and disappointing and predictable, but decided to give the series another chance.  Well, that was aggravating. Not quite at a hate-watch level, but more at the: I really want this to be better, so I'll keep watching hoping that happens. It didn't. Very pretty to look at with rich period detail, but generally superficial both in human terms and in relation to the culture it purported to present. I've never watched a nanosecond of The Gilmore Girls, so I didn't come to it as a fan of that show, but I was very open to the concept – upper-class 50's Jewish housewife discovers a flair for stand-up comedy – but what emerges is not recognizably authentic in any way. I wasn't watching people, I was watching a script being recited and cultural caricatures being embodied. Mad Men had its weaknesses, but the one thing it did right was the character of Peggy Olson, who began the series as a mousy, naive secretary, and ended it as a confident copy-writer, a transformation that was earned and authentic every step of the way. I wasn't expecting that level of work here, but I was hoping for something a little closer than I got.
A new season has just dropped this week, and I started watching it. I am excited to report that the show and I have graduated – to the hate-watch level. So that's exciting!
As the first episode began with a fluid deep-dive through an meticulously detailed recreation of a 1950's department store until we meet our heroine, relegated to the basement switchboard, I was reminded of one of the questions that constantly nagged me during the first season: how much money did they spend on the aesthetics? And why go to all of this trouble if the show itself is so mediocre?
Well, the answer is probably obvious: to overwhelm the viewer with aesthetics, so maybe they won't notice the writing and plotting, which ranges all the way from awkward to terrible with a sledgehammer:
Here's the card of a psychiatrist who's just moved to New York from Boston. He's done wonders for my friend Sylvia Plath.
There's nothing wrong with diverting froth, especially beautifully produced diverting froth. But here's my problem with Mrs. Maisel: It's supposed to be about truth. About finding authenticity and living it. After all, when we first meet Midge Maisel, she's a wealthy young married woman, who, among other things, measures her thighs every morning and rises early every morning to put on her face before her husband awakens us, lest he see her without makeup.
You know what? A woman like that could make a journey from leading that kind of life to enjoying a surprising career as a subversive, foul-mothed comic in the early 60's, and it would be a fun ride, that journey. But Mrs. Maisel isn't giving us that. Instead, it's shoveling ethnic and social stereotypes at us with every scene change, overwhelming us with artfully choreographed camera swooping and rapid-fire ridiculous dialogue, and it's not even attempting to show how that journey could happen in a real way.
In short: if a show presents itself about finding one's truth (to use a phrase), the least it could do is be truthful – about people, about personal dynamics and yes, about the past it's purporting to recreate. Or if irony is the goal – actually be ironic.
So a couple of points that really irritated me after watching four episodes last night:
Midge Maisel is deeply privileged. Wealthy and comfortable even in the midst of awkward and sometimes painful personal matters. But in one of her big moments – in a comedy show where she's been slowly pushed further and further to end of the line by a succession of mediocre male comics, she says,
But men – those over there and men in general – they run around telling everyone that women aren't funny. Only men are funny. Now, think about this – comedy is fueled by oppression, by the lack of power, by abandonment and humiliation. Now, who the hell does that describe more than women?
Sure, Midge's entrance into standup was, indeed fueled by her humiliation at the hands of her cheating husband, but there is not a single thing about the rest of her life that speaks "oppression" nor an awareness that anywhere else in the world, other than the basement of a club in the Village, a woman might be demeaned. In fact, she revels in this privilege – I'm thinking of a scene in the episode where the family packs up to go to the Catskills for two months. Movers have brought up racks and racks of her and her mother's clothes for them to choose their wardrobe from, she's giddy with excitement, especially at the prospect of entering, and she assumes, winning the bikini contest again.
And this isn't treated ironically, nor is there any meaningful interplay between Midge's still strong-fascination with appearance and disinterest in anyone's life but her own and her clarion call about comedy and "oppression."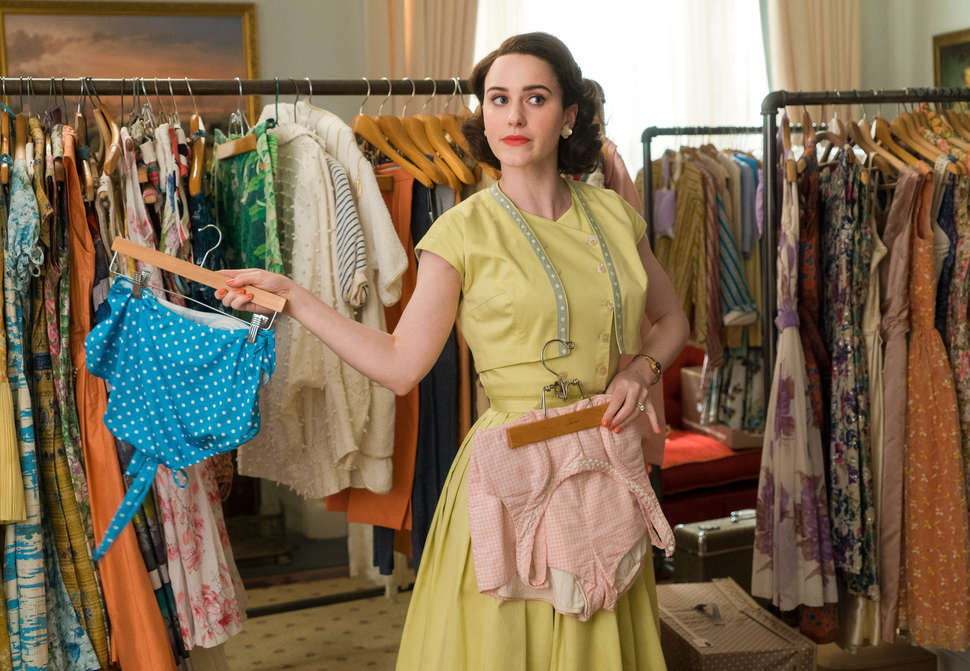 I'm saying – this could work, it could be interesting and ironic  and challenging – it could even happen within the limitations of a sitcom –  but really, it's just silly and even insulting.
Now, a small point, but one that really bugs me – there's a lot more I could critique, but honestly, I have to think to myself, how much of my time is this show worth? Answer: not much.
Anyway, quick plot summary: Midge's parents, played by the wonderful Tony Shaloub and Marin Hinkel, hit a rough patch in their relationship this season, leading to Rose, the mother's running off to Paris in the first episode (like I said – privilege. It also bugged me that none of those Paris scenes featured French music. Anyway.) She returns after she and her husband have spent a few life-altering weeks in Paris, and he's agreed to help her audit art classes at Columbia and take dance lessons with her. Hurray.
This leads to a plot point in which we see middle-aged Rose with the other female art students at Columbia (where her husband is a professor) – being shocked by male nudity and then having a heartfelt discussion in which Rose advises these young women that there is really no reason for them to be pursuing degrees in art: there are no men in the department, there's no future for them in academia (there are no female professors!), there's really no point in trying to be an artist – she knew of two in Paris and one of them killed herself – and honestly, if they're in college to get a man, they should just be in the business school – where the men are.
This leads to a meeting with a dean of some sort who wants Rose to stop auditing classes because of the impact she's having on the women – not a consciousness-raising impact, mind you, but one which moves a bunch of them to transfer to the business school. Of course, her husband intervenes, and all's well.
Again, if this were presented as a wrong-headed move on sheltered, over-protected Rose's part, that would be one thing. But it's not. It's totally presented as a reflection of The Way Things Were For Women in 1959.
Nonsense.
My word, I'm so tired of this. Tired of false narratives about history, in particular.
Yes. Women were minorities in almost all professions except for education and nursing. Yes. Women who entered male-dominated professions faced discrimination and belittlement. Yes. Most higher education was gender-segregated through much of the twentieth-century. Columbia – the college in question – didn't go co-ed until 1983.
But guess what?
(Besides the many, many great, well-known and even at the time respected female artists of the early to mid-20th century…)
In this particular case – the "what" – is  called – Barnard.
Founded in 1889, Barnard was the only college in New York City, and one of the few in the nation, where women could receive the same rigorous and challenging education available to men. The College was named after educator, mathematician, and tenth president of Columbia College, Frederick A.P. Barnard, who argued unsuccessfully for the admission of women to Columbia University. The school's founding, however, is largely due to the rallying efforts of Annie Nathan Meyer, a student and writer who was equally dissatisfied with Columbia's stance, and staunchly committed to the education of women. She joined forces with a small group of her peers to petition the University Trustees for an affiliated self-sustaining liberal arts women's college, and in two years accomplished what she had set out to do.
This plot point, where a large group of giddy, sheltered, mostly man-seeking art female art students at Columbia are discouraged from their studies by the bad news brought to them by Mrs. Maisel is an insult to the shape of history. I mean. Here's the 1959 (the year the show is set) Barnard College Bowl Team which, among other victories that year, beat all-male Notre Dame 230-110. 
Women enrolled at Barnard/Columbia in 1959: probably not skittish husband-hunters with no interest in their actual fields of study. Probably. 
Wouldn't it have been more interesting and even deeply, darkly humorous, to have Rose's chirpy advice born of privilege and nurtured in her own bubble turned on its head by a bunch of wry, skeptical, hopeful young women?
 Here's my point: You could have a show with characters who live in bubbles shaped by misogyny and sexism and privilege, trying to break that bubble, trying to find a bigger truth, dealing with their own unhappiness and limitations, and seeing how all of that shapes the course of a career and a life. It could be funny and ironic and it could even look fabulous. Or, you could have a complete fantasy of a show like Mrs. Maisel,  and I suppose that would be fun, too – but when you try present your show as a character's journey to authenticity –
….try harder to be authentic. Just a little. Just a little.