Guys, this is random. I have been doing a lot of staring at pieces of paper this week and attempting to get my head into a particular mode. I'm almost there.
So: linkish takes. That's it. In the mess, I'm sure you'll find something to interest you.
From William Newton – about a…performance artist…at…Lourdes:
When these sorts of stories come up in art news, as they occasionally do, it's very easy to become angry. Leftists behave like this because they know that it's a cheap and easy way to offend a significant number of people, and get press attention for themselves. However with age comes wisdom, and with wisdom comes the knowledge that Ms. de Robertis is quite powerless, having no idea what she has just unleashed in her life.

In her prior performances, Ms. de Robertis targeted the world of fine arts, such as the leadership of prestigious museums like the Louvre and the Orsay. But now, she has targeted the Virgin Mary before pilgrims to Lourdes. These pilgrims are devout Catholics, suffering from painful disabilities or chronic, often incurable or fatal illnesses, who are accompanied by family, friends, and volunteers, all of whom have gathered together to pray together for God's Grace through the intercession of Jesus' Blessed Mother. These are not people to be trifled with.

I can guarantee you that somewhere in Lourdes, right at this very moment, there is a group of pious Catholic grandmothers and nuns who are praying to the Virgin Mary to intercede with her Divine Son for Ms. de Robertis' conversion and redemption. Such a conversion will be far more effective, and of far greater worth to the artist, than any public attempt to criminalize her bad behavior. If she had just left the ladies of Lourdes alone, she could have continued in her rather bestial way of life, but now she is going to be made into a special intention for the prayers of others, and particularly that of the Mother whom she rather foolishly chose to insult.

Sorry, Ms. de Robertis, but you've finally met your match.
Charles Collins on the 1908 Eucharistic Congress in England:
Despite the cardinal's assurance, anti-Catholic sentiment was still common in early 20th century England, and the proposed Eucharistic procession was opposed by many Protestant groups.

Schofield told Crux the radical Protestant Alliance claimed that the procession breached the Catholic Emancipation Act (1829), which prohibited Catholic priests 'to exercise any of the rites or ceremonies of the Roman Catholic religion, or wear the habits of his Order, save within the usual places of worship, or in private houses.'

The archivist pointed out this "might have been true on paper" but the law wasn't really enforced, and several churches held public processions every year in England for Corpus Christi.

However, the prospect of a procession even worried some establishment figures.

"It is impossible to deny, however, that this assemblage of princes of the Church and of lesser members of the Roman hierarchy from all parts of the world wears the appearance of a demonstration, and almost of a challenge, which excites apprehension in respectable quarters, and has given rise to regrettable effusions of bigotry in others. An unfounded idea has been disseminated that the Congress is a move in the campaign for the restoration of the temporal power of the Papacy, and for the re-establishment of direct diplomatic relations with the Vatican," said the September 12, 1908, edition of The Spectator, a London-based weekly.
On Dr. Beau Braden's attempts to open a small rural Florida hospital – and the forces arrayed against it. 
A few doctors have offices in town, but patients say their hours are unpredictable. One afternoon, an older man who had been waiting outside a locked doctor's office slid off his walker and curled up on the shaded pavement under an awning. He just needed to rest, he said.

"There's huge need," said Representative Mario Diaz-Balart, the area's Republican congressman.

Dr. Braden, 40, said he realized this soon after he and his wife moved in 2014 to Ave Maria, where they are raising five children. He specializes in emergency medicine and frequently flies himself from Immokalee's tiny airfield to pull overnight shifts at nearby hospitals.

When he started pulling together the hospital application to the state, letters of support flowed in from the fire department, county commissioners, local businesses, developers and nonprofit health providers.

The hospital would be built on the edge of Ave Maria, about seven miles south of Immokalee, on land now owned by a development company that supported the proposal. But the hospital still exists only in blueprints and paperwork.

After years of work and spending about $400,000 from a family trust on lawyers, consultants and state filing fees, Dr. Braden submitted a 2,000-page application to Florida's health care regulators this spring, seeking a critical state approval called a certificate of need.
Update: When I read this story, I immediately spotted what seemed like what Terry Mattingly calls a religion "ghost."  I passed it along to him, and he writes about it in the Get Religion blog today:
If you have followed GetReligion for a decade or so, you know that one of our goals is to spot "religion ghosts" in mainstream news coverage.

What's a "ghost"? Click here for our opening post long ago, which explains the concept. The short version: We say a story is "haunted" when there is a religious fact or subject missing, creating a religion-shaped hole that makes it hard for readers to understand what is going on….

….

So we have a young doctor – with five kids – who is making a high-stakes, risky effort to start a small hospital that will provide care for an area with lots of low-income people and a controversial Catholic community.

What do we know about this man's background? Might there be a hint there about his motives? Well, a quick glance at his online biography shows that he is a graduate of Thomas Aquinas College in California – a small, very doctrinally conservative Catholic liberal arts college in California.

So we have a rather young, clearly idealistic Catholic doctor who moves, with his semi-large family, to the Ave Maria area to start a clinic to serve the poor and others near a controversial Catholic town.

Might religion have something to do with this story?

 
Hilary Yancey on her son's prenatal diagnoses, suffering, and God:
I prayed in that room while lying in an anxious horizontal position. God spoke one thing back, something I proclaimed for a week or two, until the diagnosis, until the end and the beginning: "She can never tell you something about this person I do not already know."

When we think about God's foreknowledge, we are tempted to run so far out, foreknowledge trailing behind us like a kite. We cannot do, say, think, be anything but what God has already seen, already ordained, already determined. We think in terms of past and present and future, and God contains them all in his knowledge, a bucket of truths about us. We think, "God already knows," and we often translate this as "God already made it to be the case that …" or "God already did." At least we think, It can't be anything except this.

But I think God's foreknowledge might be better understood as an action. God foreknows because he is in all the places where we will go, because he stands next to us and near us before and after we get there. He hovers over and in and through time, and here the descriptions feel thin, unable to pin down the truth. God stands where we will stand. God moves where we will move. God sees what we do not yet but will someday see.
The priests met Mother Marilla and her assistants in Rome that year, certain of their vocation as Tyburn Monks. But the nuns were hesitant, having no idea about how to establish a male order. In Colombia, the priests would also soon experience opposition from their bishop, who was reluctant to lose two of his finest men.

Negotiations continued tentatively for nearly four years until the archivist at Tyburn Convent discovered among the possessions of a recently deceased Sister a document from 1903 which changed everything. It was entitled "The Monk of the Sacred Heart" and was written by Marie Adèle Garnier. Over 33 pages it set out in detail her vision for the Tyburn Monks, even down to the colours of their habits and scapulars.
A French illustrator obsessed with Byzantium:
Helbert, who only made his first visit to Istanbul at the age of 35, has put in that amount of imaginative work and much more besides. "Since then," writes Risson, Helbert "has taken great care to resurrect the city of the emperors, with great attention to details and to the sources available. What he can't find, he invents, but always with a great care for the historical accuracy." Indeed, many of Helbert's illustrations don't, at first glance, look like illustrations at all, but more like what you'd come up with if you traveled back to the Constantinople of fifteen or so centuries ago with a camera. "The project has no lucrative goal," Risson notes. "It's a passion. A byzantine passion!"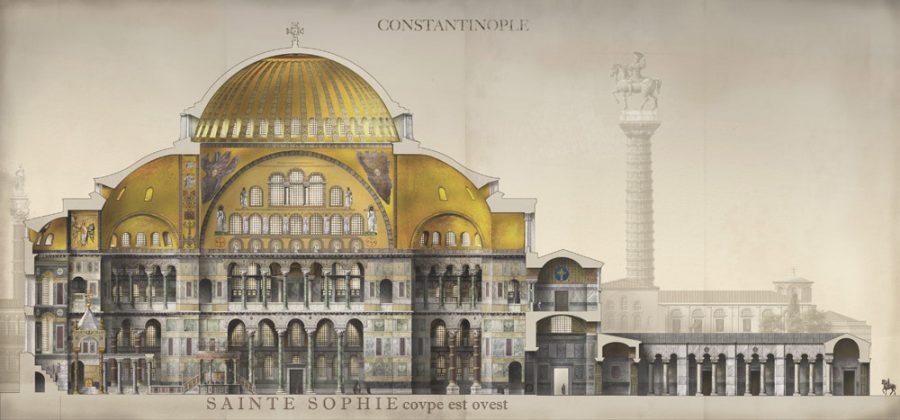 Don't forget – The Loyola Kids Book of Signs and Symbols.
NOTE: If you really want a copy soon – I have them for sale at my online bookstore (price includes shipping)  Email me at amywelborn60 AT gmail if you have a question or want to work out a deal of some sort. I have many copies of this, the Loyola Kids Book of Bible Stories, the Prove It Bible and the Catholic Woman's Book of Days on hand at the moment.
Also – my son has been releasing collections of short stories over the summer. He's currently prepping his first (published) novel, The Battle of Lake Erie: One Young American's Adventure in the War of 1812.  Check it out!
For more Quick Takes, visit This Ain't the Lyceum!