An interesting coincidence (or is it???) that the Gospel reading for the Sunday after the Vatican announced that  Mary Magdalenes' July 22 observance would be raised from a memorial to a feast is that in which we meet her, by name, for the first time.
It is from Luke. The bulk of the Gospel is the end of Luke 7, which tells the story of a nameless woman who enters the Pharisee's home in which Jesus is dining and, repentant, kisses his feet, cleanses his feet with her tears, dries them with her hair and anoints them with oil.
Jesus points out to the aghast Pharisee that this woman has done what he failed to do – welcome him properly into his home by cleaning the dust of the road off his feet and his head. Of course, the meaning is deeper than that. The Pharisee has failed to welcome Jesus into his life out of pride. The woman, aware of her sinfulness, recognizes Jesus' power to free her. Her gestures acknowledge who Jesus is, the grace he offers to forgive her and free her from the prison of her sins and how he will do this – through his own suffering. She recognizes, she welcomes, she is changed.
The option is given to tag the first part of chapter 8 onto this reading, and that is the section that specifically mentions Mary Magdalene, as one of a group of women who attach themselves to Jesus and the apostles, women who provide for the group's needs. She is described as a woman from whom Jesus drove out seven demons. "Seven" is understood as an all-encompassing, consuming number, and so what we learn from this very brief description is that whatever had Mary in its grip, had her completely, and Jesus drove it all away and freed her. Just as completely as she was consumed by demons, she was freed. So of course she would leave her life behind and follow.
The juxtaposition of these narratives has led to an association – that Mary of Luke 8 is the same woman described in the chapter before. Mary Magdalene is also associated with other women in the Gospels – she is thought of as Mary, the sister of Martha and Lazarus, or even as the woman caught in adultery in John 7. When you add in the post-Gospel legendary material of both the eastern and western Christian traditions, the confusion builds even more.
So confusing..someone should write a book!
Well, I did – several years ago in the midst of Da Vinci Code fever. OSV published it and gave it the unfortunate title of De-Coding Mary Magdalene. It was unfortunate because it tied the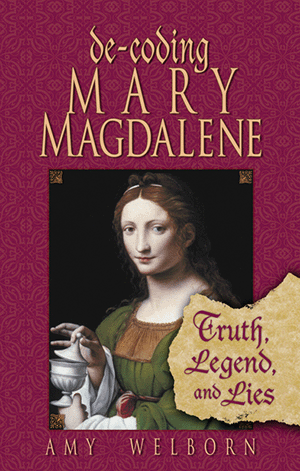 book to DVC, and I felt that its potential value reached far beyond that particular moment, since it was (and I think still is) the only popular Catholic book-length treatment of the saint – who was, incidentally, the most popular saint of the Middle Ages after the Blessed Virgin herself.
It is out of print, but I am working on getting a digital text that I would like to make available at no cost, just as I have with Come Meet Jesus, The Power of the Cross and Mary and the Christian Life. I'll let you know how that turns out.
In the meantime, take a look at this excerpt
Mary Magdalene was an enormously important figure in early Christianity. She was, after the Blessed Virgin Mary, the most popular saint of the Middle Ages. Her cultus reveals much about medieval views of women, sexuality, sin, and repentance. Today, Mary Magdalene is experiencing a renaissance, not so much from within institutional Christianity, but among people, mostly women, some Christian, many not, who have adopted her as an inspiration and patron of their own spiritual fads, paths, and fantasies.

Mary Magdalene is the patron saint of contemplatives, converts, pharmacists, glove makers, hairdressers, penitent sinners, perfumers, sexual temptation, and women.

This book is a very basic introduction to the facts and the fiction surrounding Mary Magdalene. We'll unpack what Scripture has to say about her identity and role in apostolic Christianity. We'll see how, very soon after that apostolic era, she was adopted by a movement that remade her image in support of its own theological agenda, a dynamic we see uncannily and, without irony, repeated today.

We'll look at the ways in which both Western and Eastern Christianity have described, honored, and been inspired by her, and how their stories about her have diverged. During the Middle Ages in the West, Mary Magdalene's story functioned most of all as a way to teach Christians about sin and forgiveness: how to be penitent, and with the hope of redemption open to all. She made frequent appearances in religious art, writing, and drama. She inspired many to help women and girls who had turned to prostitution or were simply destitute. She inspired Franciscans and Dominicans in their efforts to preach reform and repentance.

It all sounds very positive, and most of it, indeed, is. That's not, however, the idea we get from some contemporary commentators on Mary Magdalene's historical image.

Many of you might have had your interest in the Magdalene piqued by the novel The Da Vinci Code, by Dan Brown. In that novel, Brown, picking up on strains bubbling through pop culture and pseudo-historical writings of the past fifteen years or so, presents a completely different Mary Magdalene than the woman we meet in the Gospels and traditional Christian piety. She was, according to Brown, Jesus' real choice to lead his movement; a herald of Jesus' message of the unity of the masculine and feminine aspects of reality; a valiant and revered leader opposed by another faction of Jesus' apostles led by Peter; the mother of Jesus' child; and in the end, some sort of divine figure herself. Mary Magdalene is no less than the Holy Grail herself, bearing the "blood" of Jesus in the form of his child.

 

….The Magdalene-Spouse-Queen-Goddess-Holy-Grail theories are not serious history, so, frankly, we are not going to bother with them until the final chapter, and then only briefly. What we will be looking at — the history of the person and the imagery of Mary Magdalene — is daunting, rich, and fascinating enough.

The contemporary scholarship on Mary (and, indeed, on much of the history of Christian spirituality and religious practices) is growing so fast and is so rich that all I can do here is simply provide an introduction. A thorough, objective introduction, I hope, but the fact is that the burgeoning scholarship on Mary Magdalene is quite vast, and much of it, particularly that dealing with the medieval period, is not yet available in English. I have provided an annotated bibliography at the end of this book for those readers interested in pursuing this subject in more depth.
Our brief survey will undoubtedly be revealing, as we rediscover how deeply Mary Magdalene has been revered, used, and yes, misused and misunderstood by Christians over the centuries. The story, I hope, will be provocative in the best sense. For the fact is, the greatest interest in Mary Magdalene in the West today comes from those outside of or only nominally attached to the great course of traditional apostolic Christianity. Roman Catholics, in particular, seem to have lost interest in her, as, it must be admitted, they have in most saints.

Lots of people are listening to a Magdalene of their own making, a figure with only the most tentative connection to the St. Mary Magdalene of centuries of traditional Christian witness.

May the story recounted in the book play a part in reclaiming Mary Magdalene, so that we may hear her speak clearly again, as she does in the Gospels: for Jesus Christ, her Risen Lord.
Here's a piece I wrote for the Busted Halo site on MM.
(This nutty angle on MM will be getting more play in the fall, once again, as for some strange reason, Dan Brown releases a new edition of his book.."for teens.")
And now let's get back to the elevation of this memorial.
The designation of special days in the Catholic calendar is complicated. You might be tempted to shrug, "legalism" and wonder why such trouble must be taken to put various celebrations in specific categories, but don't. When the Church celebrates something, it does so in terms of the Mass readings and prayers and also the readings and prayers of the Office, or Liturgy of the Hours, the cycle of prayers that all religious are bound to pray and that all laity are invited to pray as well. There are thousands of saints and blesseds formally recognized by the Church. There has to be a system for organizing these celebrations and keeping the calendar focused, particularly as these celebrations are observed from people all over the world and also since the calendar moves, as we saw, for example, a couple of months ago when the Feast of the Annunciation fell on Good Friday.
So don't sneer. That specificity, that attention to that kind of detail is in service to all of us and the Gospel.
Anyway, to get the background on this elevation, read the declaration itself and this commentary from the New Liturgical Movement.commentary from the New Liturgical Movement, which alerts us to the fact that this "new" action circles back around to
Not only is this not a novelty, it is partially a return to the historical practice of the Tridentine Rite. In the Breviary of St Pius V, which predates his Missal by two years (1568), there were only three grades of feasts: Double, Semidouble and Simple. St Mary Magdalene's feast was a Double, meaning that it had both Vespers, doubled antiphons at the major hours, nine readings at Matins, precedence over common Sundays, and had to be transferred if it were impeded. It is true that later on, as Double feasts were subdivided into four categories, she remained at the lowest of them (along with all the Doctors, inter alios). Nevertheless, the privileges of her liturgical rank did not even begin to be curtailed until late in the reign of Pope Leo XIII, at the end of the 19th century.

As I noted in 2014 in an article about her feast day, the Creed was traditionally said at the Mass of St Mary Magdalene in recognition of that fact that it was she who first announced the Resurrection to the Apostles. (This felicitous custom was removed from the Roman Missal for no discernible reason in 1955.) This is also why she was called "Apostles of the Apostles" in a great many medieval liturgical texts, such as the Benedictus antiphon in her proper Office sung by the Dominicans.
This recognition of Mary Magdalene as an "apostle to the apostles" is not a new invention. As Roche points out, it is ancient, but as he fails to point out, it is a notable characterization of Mary Magdalene in the East.
And now, I'll carp.
The notification is offered to us because this change is something Pope Francis wants. It is by his "express wish" and a means by which he seeks to "underline" some themes.
This emphasis on framing the Faith in terms of Pope Francis' priorities, hopes and dreams is such a huge problem, I can't tell you. Well, I probably can.
The declaration is presented with no acknowledgment of the historical background of Mary Magdalene's cultus or the shape of her memorial in the liturgy, and therefore comes across as an amazing new thing. This decision, in the current ecclesial context, seeks to reflect more deeply upon the dignity of women, on the new evangelisation and on the greatness of the mystery of God's Mercy. 
The failure to mention the liturgical role of Mary Magdalene in Eastern Christianity is regrettable and narrow.
And Roche ends with this: For this reason it is right that the liturgical celebration of this woman should have the same rank of Feast as that given to the celebration of the Apostles in the General Roman Calendar and that the special mission of this woman should be underlined, she who is an example and model for all women in the Church. 
This is just wretched. Yes, we say, for example, that a certain teen-aged saint is a model for teenagers, or an African is a model and beacon of hope for other Africans, but we say that informally.
When we talk about the shape of Catholicism as a whole and how it embodies the saving action of Christ in the world, we do not use gendered or class-bound or ethnically-defined language. Women are invited to contemplate the witness of St. Francis of Assisi. Men are invited to embrace the spirituality of Therese of Lisieux. And so on.

The amazing, beautiful and absolutely unique thing about Catholicism is how adolescent girl-martyrs, homeless guys, the homebound and in general, people of every ethnicity and age are held up as figures for everyone to look to, honor, pray to and emulate. In what other part of life on this earth do you find Very Rich People financing huge, elaborate edifices to house the bones of kids murdered by worldly powers? Where do you find a spirituality that says – the witness of his homeless fellow, of this woman who spent her life praying in solitude…the freedom they found in Christ? It's yours, no matter who you are. Be like that homeless guy. Be like that woman. Be like that kid. All of you. Learn from them. Be like them. 

So, sure. This is good. But how much more powerful, or at least, less irritating, it would have been if the decision, as expressed, were more firmly and explicitly grounded in the Church's already rich tradition of devotion to Mary Magdalene, not as an expression of the priorities of Pope Francis, and she was presented as an "example and model" for all people, and not in terms of mildly insulting gesture for the ladies who presumably haven't figured out from, I don't know, the entire witness of Catholic tradition..that sharing the Good News is what we, as baptized Christians, are all about.