Continuing my series on books and other materials I've published that you might find useful in your home, parish or school.
Previously:
Adult Faith Formation/RCIA books:
Children's books (with more to come tomorrow)
Today – some of the devotional and parish resources I've published.  Some are more timely than others, but just so you can see, and in case anyone still wants pamphlets on Pope Benedict XVI!
First, A Catholic Woman's Book of Days – published by Loyola.  This was probably the hardest book I ever wrote.  I mean – it
was endless.  Just imagine, if you would, reaching the point where you'd written two hundred short devotions. You feel pride. You've achieved something.  Then you realize, "That means I have 165 to go…."
Yeah, that was a challenging road.
But I finished! And I think it's pretty good!  Since it's designed to be used in any year, the entries can only get so specific.  So for the non-moveable feasts like Christmas and the Marian feasts, the entries are set.  But since the liturgical seasons are moveable, what I did was to make the late February and March entries Lent-ish, the late April and May entries Easter-ish and the December entries Adventy.
I've written quite a bit for Creative Communications for the Parish – which is a great company providing affordable, quality materials.
Of course, I contribute 6 devotions to every quarterly issue of Living Faith. There are print and digital versions.
Also:
Do I Have to Go?  – a little pamphlet on helping children get more out of Mass.
This year, I have a new family Advent devotional:
Currently out of print is a small booklet I wrote on St. Nicholas.
Also currently out of print, but I understand, coming back into print for Lent 2015 is the young people's Stations of the Cross I wrote:
Okay…moving on to OSV:
Praying the Rosary is a lovely little book, illustrated with gorgeous icons. I hear they are going to put it out of print once this current print run is sold, so act now!
Back in the day, I wrote quite a few pamphlets for OSV.  I'm not sure if all of these are still available, but:
Spanish edition of above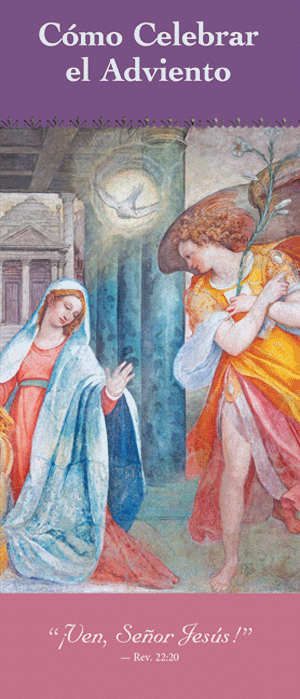 How to Celebrate Christmas as a Catholic
How to Celebrate the Easter Season
Pope Benedict's Encyclical on Hope
Also, a couple of miscellaneous resources:
A study guide for some of B16's collected General Audiences
Listening to God with Pope John Paul II
Are we done yet? Not quite.
For Ave Maria press, we wrote John Paul II's Biblical Way of the Cross. The current edition is illustrated with paintings by Michael O'Brien.